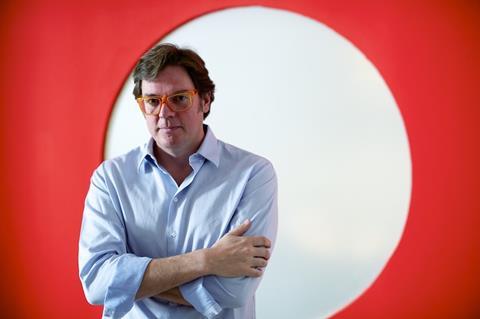 The European Producers Club (EPC) unveiled its an ambitious wishlist of industry support measures during the online European Film Forum, presented by Creative Europe at the San Sebastian International Film Festival in Spain on Tuesday (September 22).
Spanish producer Álvaro Longoria of Morena Films, who is president of the European Producers Club, unveiled the group's COVID recovery manifesto.
He called for support at the European level, especially during the pandemic. "We at the European Producers Club believe that the European authorities and the European Commission have to take the lead in order to come up with some measures to try to balance this disequilibrium that is created now, because otherwise there will be a lot of casualties in the process."
EPC, which has 130 member producers across Europe, is advocating the following measures:
The introduction of obligation for all OTT platforms operating in Europe to invest 25% of their turnover into European works, of which 80% would be reserved for independent production companies and at least 50% to local content;
The introduction of a best-practice charter between independent producers and OTT services, helping producers retain ownership of IP rights, get fair renumeration for their work, be respected for their creative role, receive a fair share of revenues on successful works, and require data transparency from the OTTs;
The creation of an EU-funded project development fund, dedicated to independent producers, which would help develop projects that have the highest level of quality and international potential;
The creation of a European co-production fund to foster European Film and TV series co-productions within the independent model, "which will replicate and add to the existing model of Eurimages; and with a proposed relaxation of the 60% aid intensity limit in case of co-productions;
The creation of a Covid-19 EU guarantee/Insurance fund for cross border TV and film co-productions;
And finally, the creation of a new worldwide distribution tool of European works using new technologies, which Longorio admitted was more of a "dream" rather than a concrete plan at this stage.
"We believe these measures will keep the essence of the European Union, which is preserving diversity and entrepreneurship," added Longoria, whose film credits include Sanctuary, Everybody Knows and 7 Days in Havana.
Collaboration across Europe is more essential than ever, he said: "Specific countries are negotiating at the moment for specific measures, but I think this is a great opportunity also for Europe, to demonstrate that together you can be better and stronger.
"We believe in the creation of European champions… we support both the creation of bigger networks or new platforms, and great production companies, but we also believe that the greatest champion is a great product, especially from the producers' point of view."
The new suggestions build on the 10 points the EPC published earlier in the pandemic.