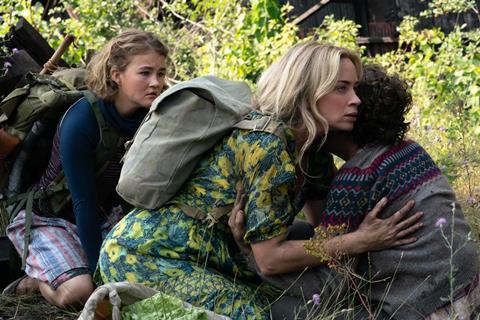 As ViacomCBS ramps up its streaming activity, CEO Bob Bakish declared in a first quarter earnings call on Thursday (May 6) that Paramount+ expects to debut a new original film every week starting in 2022.
The platform, which launched on March 4 in the US, Canada, and Latin America including Brazil, drove an increase of six million ViacomCBS global streaming subscribers to bring the number to 36m.
It will launch in Australia on August 11, when the offering will include original content from Paramount+, as well as titles from Paramount and Showtime, and ViacomCBS's stable of cable and networks.
The media giant's streaming platforms are on course to be operational in 25 international markets by the end of 2021, and in 45 by the end of 2022. Paramount+ is also up and running in the Nordics following the launch on March 25.
Bakish noted that March was the company's best yet for sign-ups, fuelled by Paramount+, as monthly watch time per active subscriber grew 17% year-on-year.
Mark Wahlberg sci-fi thriller Infinite, directed by Antoine Fuqua, is bypassing a theatrical release and will go straight to Paramount+ in June. That will be followed by A Quiet Place Part II after its 45-day exclusive theatrical run that starts on May 28 in the US, and children's title Paw Patrol: The Movie.
Some 1,000 new films will join the library of titles available to Paramount+ subscribers in early June, with another influx in July bringing the number of new library film titles to more than 2,500. New arrivals include Mission: Impossible – Ghost Protocol and Rocketman, and non-Paramount films like Avengers and Skyfall.
New original films like supernatural thriller Paranormal Activity and sci-fi romance The In Between will debut on the service by the end of 2021. The $4.99 ad-supported Paramount+ tier will launch in early June.
ViacomCBS global streaming revenue increased 65% year-on-year to $816m, driven by a 62% surge in streaming advertising revenue led primarily by free service Pluto TV, and a 69% rise in streaming subscription revenue, led by Paramount+.
Pluto TV added six million monthly active users and is close to 50m. Bakish said the platform was the largest free ad-supported streaming TV service in the US across all metrics.
ViacomCBS total revenue of $7.4bn for the quarter delivered a 14% rise year-on-year driven by advertising, affiliate operations, and streaming. Advertising and affiliate revenue both exclude streaming.