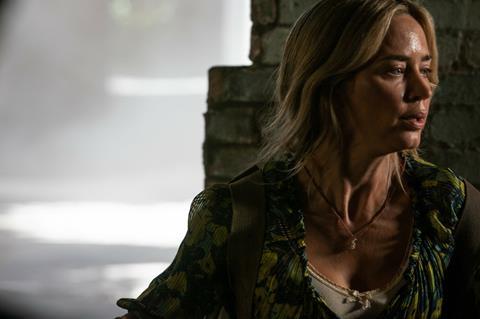 In the latest seismic shake-up to the exclusive theatrical distribution bastion, Paramount 2021 tentpoles A Quiet Place Part II and Mission: Impossible 7 will launch on Paramount+ 45 days after their US theatrical release.
The news came as ViacomCBS unveiled its streaming strategy at its investor day event on Wednesday (February 24) and follows window-shattering announcements by Universal and Warner Bros last year.
Paramount+, the rebranded CBS All Access, launches in the US on March 4 at a premium price of $9.99 a month, with a $4.99 monthly ad-supported option debuting in June.
The service also launches on March 4 in Latin America and Canada, followed by the Nordics on March 25, and Australia later this year. Additional markets will be announced in due course.
Shared priority on first pay TV window
A Quiet Place Part II (currently dated to open on September 17) and Mission: Impossible 7 (November 19) belong to a band of select Paramount features that will receive their debut on Paramount+ as the first pay TV window after an exclusive 30 to 45-day run in cinemas.
Top Gun: Maverick, currently scheduled to open in cinemas on July 2, and other films from the studio will go from cinemas to Epix as the first pay TV window after their theatrical runs. After that they will be also be made available on Paramount+.
The alternating pay 1 window arrangement comes as ViacomCBS executives said they had extended Paramount's deal with Epix by one year. The arrangement will see the studio and Epix share priority on the first pay TV window on Paramount's theatrical releases through the end of 2023.
Children's film Paw Patrol: The Movie is scheduled to open theatrically on August 20 before it too migrates to the new streaming platform after 45 days.
An initial roster of genre films from Paramount Players destined to debut directly on Paramount+ include a new Paranormal Activity film from franchise creators Blumhouse and Solana Films; The In Between, and a Pet Sematary origins story based on the Stephen King book to be produced by Lorenzo di Bonaventura.
ViacomCBS targets 65-70m streaming subs by end of 2024
Paramount+ will launch with a library of more than 2,500 films, 30,000 TV episodes, more than 1,000 live sporting events, and 24/7 news coverage.
ViacomCBS forecasts that its total streaming customers (who also watch Showtime, BET+ and Pluto TV) will reach 65-70m by the end of 2024, with the majority coming from Paramount+.
By 2024 it expects to invest $5bn in pure streaming content compared to $1bn last year.
TV series premiering on Paramount+ over the next two years include Halo, Grease: Rise Of The Pink Ladies, Frasier, and shows from the Avatar, Star Trek, and SpongeBob SquarePants universes.
Sporting events will include Champions League football, National Women's Soccer League, the PGA Championship, NCAA, and NFL, among others.
New coverage encompasses CBSN around the clock, CBS news programmes, and a new series, 60 Minutes+.
Under the extended deal with Epix, the films that go from cinemas to Paramount+ after 45 days will also start a shared Pay 1 window on Epix. Other Paramount films will go from cinemas to Epix in an exclusive 90-day Pay 1 window, before they are made available on Paramount+ and Epix.
The Epix extension also gives Paramount+ access to films licensed to Epix from other studios including MGM. This means after their theatrical release films including No Time To Die will play for 90 days on Epix as the Pay 1 window before they are made available on Paramount+ and Epix.
MGM titles include Creed II and House Of Gucci.