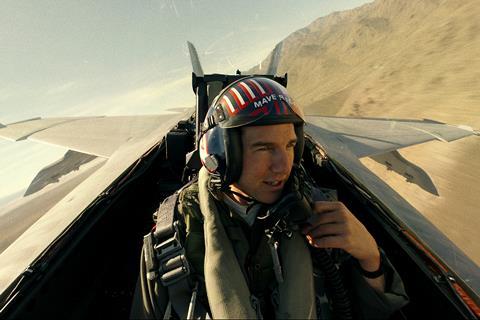 Paramount Global has reported sizable increases in streaming and theatrical revenue for the fourth quarter of 2022. But content costs and declining revenue from traditional television caused a 93% decline in the conglomerate's overall operating income.
Paramount said direct-to-consumer subscribers reached 77m in the quarter, with flagship streaming service Paramount+ adding 9.9m subscribers for a 56m total. The company said Paramount+ revenue was up 81% year-on-year and overall streaming revenue grew 31%, to $1.39bn.
But with expenses at the direct-to-consumer division rising 25%, the segment's adjusted loss increased 15% to $575m.
Paramount's filmed entertainment division saw revenue increase 35% year-over-year, to $936m, with box office hits including Top Gun: Maverick and Smile driving a 149% jump in theatrical revenue to $97m.
The company said its feature films also boosted Paramount+, with Paramount Pictures releases accounting for five of the service's top 15 engagement drivers.
In a conference call with analysts, Paramount executives said the recently announced integration of the Showtime premium cable network into Paramount+ in the US will cause a write-down of $1.3bn-$1.5bn but save about $700m in content costs in the long term. With the integration, the top tier price of Paramount+ will increase from $9.99 a month to $11.99, they added.
Paramount Global CEO Bob Bakish said 2023 will see the company's "peak investment" in its flagship streamer.
In a statement on the fourth quarter performance Bakish said: "Paramount continues to demonstrate the success of its global multiplatform strategy, with popular content at its core. Nowhere was this more evident than in the growth of Paramount+, which added a record 9.9M subscribers in the fourth quarter, driven by hit content like Top Gun: Maverick, 1923 and Criminal Minds: Evolution. In addition, in 2022, Paramount Pictures had six films open at number one in the US box office and Paramount regained its position as the most-watched media family in linear television. Our content and platform strategy is working and, with even more exceptional content coming this year, we expect to return the company to earnings growth in 2024."