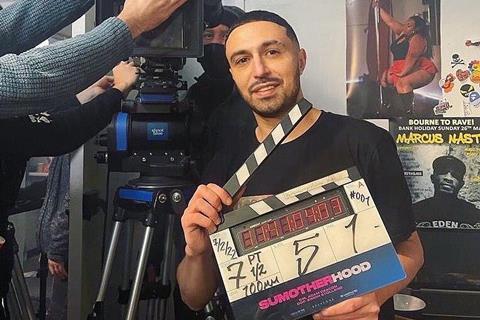 Paramount Global Content Distribution and Paramount Pictures UK have acquired worldwide rights on Adam Deacon's upcoming action-comedy Sumotherhood.
The studio will release the film theatrically in the UK and Ireland later this year.
Sumotherhood marks a return to the industry for UK actor-filmmaker Deacon, who broke out as an actor in 2006's Kidulthood and won the Bafta Rising Star award in 2012. The new film is the fourth in the Kidulthood series, after 2008's Adulthood and 2016's Brotherhood, the latter of which Deacon did not appear in.
The film is currently in post-production, with an ensemble cast including Deacon, Jazzie Zonzolo, Jennifer Saunders, Danny Sapani, Ed Sheeran, Leomie Anderson, Kobna Holdbrook-Smith, London Hughes, Peter Serafinowicz, Richie Campbell, Ella VaDay and Jaime Winstone, with casting by Screen Star of Tomorrow 2021 Heather Basten. Plot details on the film are still under wraps; it is billed as an 'urban action-comedy' by Paramount. Writers are Deacon, Zonzolo and Michael Vu.
The film is produced by Finn Bruce of Belstone Pictures, with Deacon and Zonzolo. Executive producers are Barry Nicholl, Robert Williams and Kevin Bishop for Piece of Pie Productions, the UK firm which developed, financed and executive produced the film.
Deacon has been open about his mental health difficulties in recent years that have played a role in his absence from the industry since his early noughties success. He is an ambassador for mental health support organisation Bipolar UK, and the film touches on mental health issues.
"Due to the stigma surrounding my mental health, it's been hard to navigate my way back into the industry, but I've worked extremely hard and kept the faith for over eight years, so to get to the point where I'm working alongside Paramount is just such an honour and I'm extremely grateful to have their backing," said the filmmaker. "Everyone at Paramount have really understood my vision as a filmmaker and what I'm trying to create. I feel truly blessed to be directing again and doing what I love."
"We founded the company to support filmmakers like Adam," added Williams. "We aim to help them tell their stories and confront mental health through this medium."