Oscar-winning director of An Inconvenient Truth making the film about the Pakistani teenager who survived a brutal assassination attempt by the Taliban.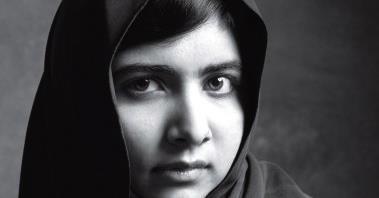 Image Nation Abu Dhabi has announced that US-based Participant Media will co-finance the upcoming Malala Yousafzai documentary from Parkes + MacDonald Productions.
In addition to its financial commitment, Participant will collaborate with Image Nation to launch a social action and advocacy campaign to expand the reach and impact of the film release.
Directed by Davis Guggenheim, the Oscar-winner behind An Inconvenient Truth, the feature-length documentary about Pakistani teenager Malala Yousafzai's fight for the right to education is expected to release early 2015.
Malala gained international recognition in 2012 when she survived a brutal assassination attempt by the Taliban at age 14. Shot in the head and neck when gunmen opened fire on her school bus in Pakistan's Swat Valley, Malala was targeted for speaking out on behalf of girls' education in her community.
Producers are Walter Parkes and Laurie MacDonald. Parkes + MacDonald announced that production is set to begin in early July 2014, in association with Image Nation Abu Dhabi, the Emirati film and television company with whom Parkes + MacDonald has a long-standing partnership.
Participant Media has a long-standing relationship with Image Nation, having partnered on the Participant Media/Image Nation Film Fund, which financed such films as Cesar Chavez, The Best Exotic Marigold Hotel, The Help, and upcoming releases A Most Violent Year and Out of the Dark.
But Image Nation is now moving away from just financing content and the new documentary is part of an ongoing strategy to create content about social and ethical issues that affect not only the UAE but also an international audience and community.
Michael Garin, CEO of Image Nation, told ScreenDaily: "When people think about Abu Dhabi, they think about getting some of our money. This is one of the first times people from outside are making an investment in what Abu Dhabi is doing.
"We have the means of our ambition so we can do projects because we believe in them. But when people want to join us because they can add something, that's great. Jeff Skoll's philanthropy at Participant and the great social media support they've created will enhance the documentary. If they were only bringing money it wouldn't have as much intetest but their involvement will enhance the documentary's impact when it's released."
Jim Berk, Participant Media's CEO, commented: "Malala Yousafzai has said that she speaks, not for herself, 'but so those without a voice can be heard.' Jeff Skoll founded Participant Media to provide a platform for voices calling for social change, which is why Participant's collaboration on this film was so important to him."