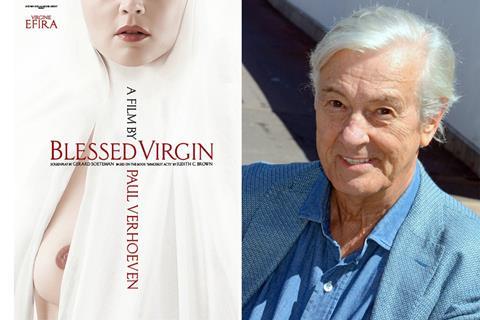 France's Pathé Films and SBS Productions announced today (Feb 16) that Paul Verhoeven's highly-anticipated feature Blessed Virgin will start shooting this August.
The Dutch director is re-teaming with Paris-based producer Saïd Ben Saïd and Belgian actress Virginie Efira, following their collaboration on his Isabelle-Huppert-starring revenge thriller Elle.
It is the third collaboration between Verhoeven and Pathé Films after Showgirls and Black Book.
The feature is an adaption of Judith C. Brown's academic work Immodest Acts: The Life Of A Lesbian Nun In Renaissance Italy about controversial 17th century abbess Benedetta Carlini.
Efira – who played a devout Catholic wife in Elle – will star as Carlini.
The rest of casting is still in progress.
Having entered a convent in the Tuscan town of Pescia as a child, Carlini rose-up the ranks, propelled by her claims of a series of lurid mystic visions and the appearance of stigmata on her body.
But she was later ostracised by the church after an investigation discredited her claims as a sham and uncovered evidence of affairs with other nuns in the convent. There has been much academic debate over the true reasons for her downfall.
SBS Distribution first announced the project on the eve of the Cannes Film Festival last year. Pathé has now signed to handle international sales which will begin in Cannes 2018. Pathé will release the film in France in 2019.