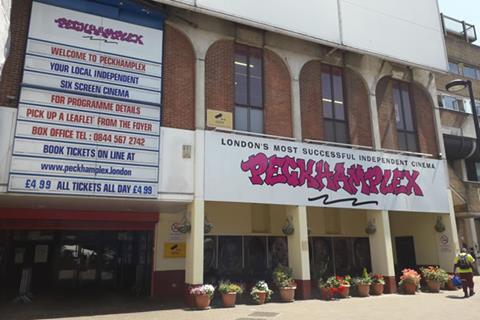 Independent London cinema Peckhamplex is temporarily closing its doors due to falling attendance and delayed releases of major titles as the UK Cinema Association warns more cinemas may have to close if there are no major titles in the release calendar.
The six-screen Peckhamplex venue previously reopened on August 26, following three months of closures due to the pandemic, in line with Warner Bros release of Tenet.
But the cinema is set to close from tomorrow (September 25) and remain closed until the release of new James Bond film, No Time To Die, which Universal Pictures will open in the UK on November 12.
"We opened last month when we thought it was safe to do so and initially had great response with the release of Tenet," said John Reiss, chairman of Peckhamplex.
But after that initial flurry, attendance began to seriously wain.
"There is still caution out there about going back to cinemas but people weren't coming because the films simply aren't there. I understand why distributors are doing this, with the US release in mind, but their decisions are stretching the ability of exhibitors around the world."
Reiss said they had not let any of their 40 staff go at the cinema - famous for its cheap tickets of £4.99 at any time of the day - and had been dipping into reserves, which had been earmarked for a major refurbishment earlier this summer.
"Part of our reason for closing throughout October is so that we can come back," Reiss added. "We have already burned through a lot of our reserves keeping the cinema open but don't want to get right to the margins. This temporary closure is to protect the jobs of our staff and secure our viability for the future. But we are in the hands of the distributors. Without mainstream films, they may be killing cinema's future."
Disney release schedule change
The closure follows Disney's decision to push Marvel feature Black Widow from November to May 2021 while 20th Century Studios' West Side Story will shift from December 2020 to December 2021. However, Reiss said their decision was made last Sunday, before the latest news broke.
According to Comscore, more than 700 cinemas have now reopened across the UK and Ireland since lockdown measures began to be eased for cinemas in England on July 4 and is not seeing a decline in venue figures.
But Phil Clapp, chief executive of the UK Cinema Association, warned more venues may soon face the same challenge if there are no major titles in the release calendar.
"The recent and ongoing changes to the release slate sadly make it likely that we will see many other venues coming to the conclusion that they are unable to remain open at this time," said Clapp.
"Cinemas have done all they can to welcome customers back to a safe and enjoyable experience – and we have ample evidence that they have been successful in doing so – but without significant new titles then it will remain a hugely challenging business environment."
Comscore's Lucy Jones recently revealed during a panel discussion that box office for the UK and Ireland for 2020 to date is currently around 69% lower than for the equivalent period last year. "We have lost something in the region of £650 million. I should point out that is just in ticket sales," Jones said.
If a second wave of Covid can be contained and releases of scheduled blockbusters aren't delayed, Gower Street's Dimitrios Mitsinikos predicted the UK-Ireland market would recover partially and that 2020 would end up at £540m – "60% behind last year" (£1.35bn) – and with admissions at between 70 and 75 million. That would be the lowest figure since 1985 when admissions were at 72 million.