Cannes veteran Pedro Almodóvar has stormed to the top of the Screen Cannes jury grid with his latest film Pain And Glory, starring Antonio Banderas and Penélope Cruz.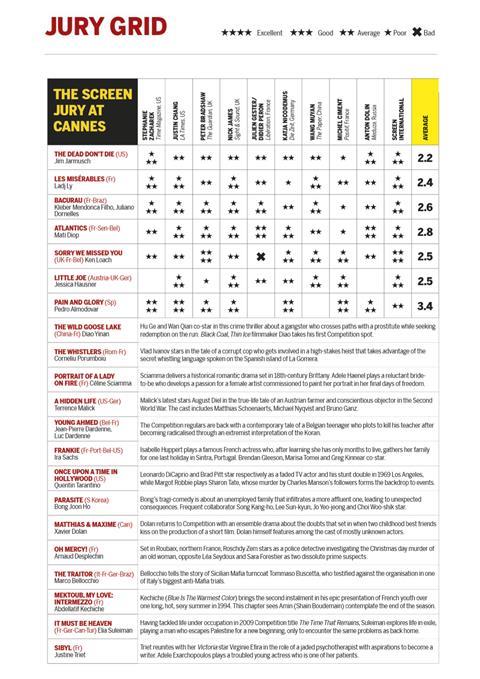 Appearing in Competition at the festival for the sixth time, Almodóvar's film took a 3.4 average, with two critics still to score. It achieved as many scores of four (excellent) as all the other titles so far put together, with four critics – Time's Stephanie Zacharek, the LA Times' Justin Chang, Die Zeit's Katja Nicodemus and Positif's Michel Ciment – all giving it top marks.
Almodóvar's previous jury grid scores include a 2.4 for Julieta in 2016; a 2.8 for The Skin I Live In in 2011; a 3.2 for Broken Embraces in 2009; a 3.4 for Volver in 2006, that year's jury grid winner; and a 3.2 for All About My Mother in 1999, which went on to win the Oscar for best foreign language film.
With its final two scores still to come, Pain And Glory could yet set a new record for the Spanish director.
Regular Almodóvar collaborators Banderas and Cruz respectively play a director looking back on his life and career, and the director's mother, seen in flashback.
Two further titles also took their jury grid spots, and both split the opinion of the critics.
Ken Loach received a 2.5 average for Sorry We Missed You. The Guardian's Peter Bradshaw and Screen's own critic both gave it a top mark four; however Julien Gester and Didier Peron of Libération awarded it the first zero (bad) of this year's grid – the same score they gave Loach's I, Daniel Blake in 2016, one of the director's two Palme d'Or wins.
That film received a 2.4 average, and is one of an extraordinary 13 previous Loach titles to have competed for the main Cannes prize.
Of his recent films, Jimmy's Hall received a 2.5 in 2014; The Angels' Share took a 2.8 in 2012; Route Irish scored 2.4 in 2010; Looking For Eric marked 2.9 in 2009; while 2006 Palme d'Or winner The Wind That Shakes The Barley scored 2.4.
Set in the Northeast of England, Sorry We Missed You tells the story of a British delivery driver and his wife who works in a care home, as the couple struggle to make ends meet for their two children in a zero-hours contract-based gig economy.
Another UK title, Jessica Hausner's Little Joe, also averaged out at 2.5, with two scores still to come. It was less divisive than Loach's film, with a modal score of three (good) but a one (poor) from Bradshaw.
Emily Beecham and Ben Whishaw star in the sci-fi drama about a genetically engineered plant that scatters its seeds and seems to cause uncanny changes in living creatures.
One third of the Competition titles have now taken their spots – how is your Screen Cannes jury grid poster coming along?! Share all you've filled in with us at @screendaily on Twitter, Facebook and Instagram, with the grid image available to print here.
Next up on the grid are Diao Yinan's crime thriller The Wild Goose Lake; and Corneliu Porumboiu's island-set heist The Whistlers.