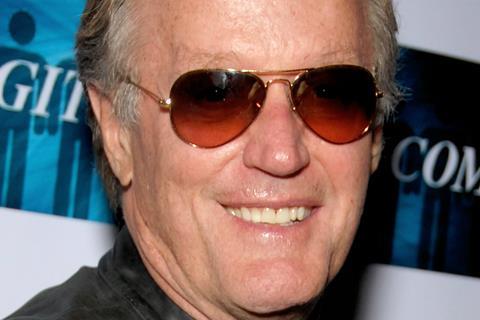 Peter Fonda, a symbol of 1960s counterculture who co-wrote and starred alongside Dennis Hopper in the iconic Easy Rider, has died at his home in Los Angeles following a battle with lung cancer. He was 79.
Fonda, the son of Henry Fonda, younger brother of Jane Fonda, and father of Bridget Fonda, earned two Oscar nominations in a career defined by Easy Rider – 50 years old this year – which celebrated the free-wheeling ethos of the 1960s as the United States careened into a darker odyssey in the decade that followed.
His family issued a statement that read: "It is with deep sorrow that we share the news that Peter Fonda has passed away.
"In one of the saddest moments of our lives, we are not able to find the appropriate words to express the pain in our hearts. As we grieve, we ask that you respect our privacy. And, while we mourn the loss of this sweet and gracious man, we also wish for all to celebrate his indomitable spirit and love of life.
"In honor of Peter, please raise a glass to freedom."
In a separate statement, Jane Fonda said: "I am very sad. He was my sweet-hearted baby brother. The talker of the family. I have had beautiful alone time with him these last days. He went out laughing."
Fonda shared a best original screenplay Oscar nomination for Easy Rider in 1970 with director Hopper and Terry Southern. While the tale of two bikers, Wyatt (Fonda) and Billy (Hopper), traversing the States with Jack Nicholson's alcoholic lawyer in tow conveyed no real sense of urgency, its lack of dense plotting and anti-establishment spirit were the point.
Audiences agreed, and Easy Rider, made on a shoestring and boasting stunning vistas and a stirring rock soundtrack, was a huge hit, earning $41m in the US through Columbia Pictures (in real terms that equates to $278m), and $60m worldwide.
His second Academy Award nod came in 1998 for his lead role in Ulee's Gold. Fonda was rarely out of work. Acting credits included Roger Corman's The Trip in 1967, Hopper's Easy Rider follow-up The Last Movie in 1971, The Cannonball Run, Ghost Rider, 3:10 To Yuma, and Escape From L.A., which bears special mention if only for the tsunami surfing scene with Kurt Russell's Snake Plissken character. Fonda directed The Hired Hand in 1971, Idaho Transfer in 1973, and Wanda Nevada in 1979.
Rob Reiner tweeted: "My heart goes out to Jane over the loss of her brother. Peter Fonda was a revolutionary filmmaker during a revolutionary time. Born in the house I now live in, his spirit will be missed."
Illeana Douglas said, "EASY RIDER depicted the rise of hippie culture, condemned the establishment, and celebrated freedom. Peter Fonda embodied those values and instilled them in a generation. Independent cinema begins with EASY RIDER. Period."