Peter Rabbit has become Sony Pictures Entertainment's highest-grossing UK release outside of the James Bond franchise.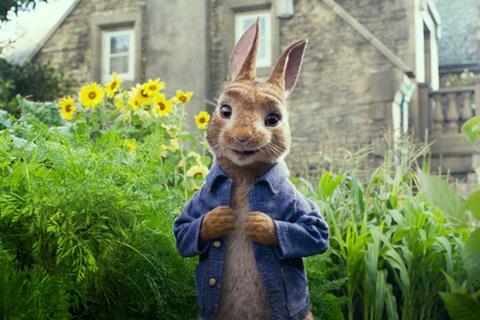 The film hit £38,475,923 on Friday, taking it past the lifetime grosses of Jumanji: Welcome To The Jungle, which is on £38,465,082.
The company's highest-grossing title remains Bond film Skyfall, which is the UK's second highest-grossing film of all time on £103.2m, behind Star Wars: The Force Awakens on £123.2m.
Fellow Bond films Spectre (£95.2m), Casino Royale (£55.6m) and Quantum Of Solace (£51.2m) form Sony's top four releases in the UK, with Peter Rabbit now fifth.
The film has been on release in the UK for six weeks, as of this weekend. Sony are expecting it to max out in the early-£40m range, though the good weather forecast for the UK this weekend could affect its prospects.
Avengers: Infinity War is released on April 26 and will take up a lot of UK cinema real estate, however, the next serious contender in terms of family releases is Sherlock Gnomes which is released on May 11. Before that date, Sony will also be targeting the UK bank holiday on May 7 as a possible boost to takings (again, weather dependent).
In wider UK box office terms, Disney's Black Panther remains the highest grossing film of the year to date in the UK, currently on £49.5m. That figure is likely to be challenged by Avengers: Infinity War.
For Sony, the year has started positively with Peter Rabbit, Jumanji: Welcome To The Jungle, and horror title Insidious: The Last Key (£5.3m) all doing good numbers.
Titles on the company's slate for the rest of 2018 include family animation Hotel Transylvania 3, Denzel Washington action thriller The Equalizer 2, Simon Pegg comedy-horror Slaughterhouse Rulez, superhero movie Venom, starring Tom Hardy, the sequel to the Goosebumps remake, the Girl With The Dragon Tattoo reboot Girl In The Spider's Web, starrig Claire Foy, and Sherlock Holmes spin-off Holmes And Watson.