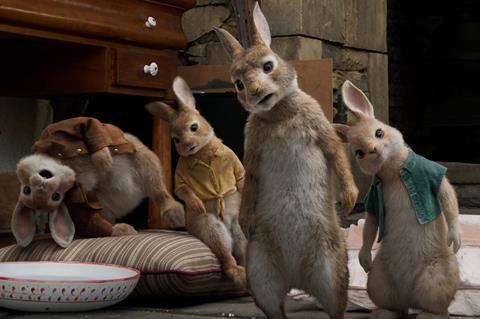 | | | | | |
| --- | --- | --- | --- | --- |
| Rank | Film / Distributor | Weekend Gross (Fri-Sun) | Running Total | Week |
| 1 | Peter Rabbit (Sony) | £4.6m | £13.6m | 2 |
| 2 | Pacific Rim Uprising (Universal) | £1.65m | £1.65m | 1 |
| 3 | Black Panther (Disney) | £1.35m | £44.9m | 6 |
| 4 | Tomb Raider (Warner) | £1.1m | £5.47m | 2 |
| 5 | The Greatest Showman (Fox) | £750,164 | £40.11m | 13 |
Today's GBP to USD conversion rate - 1.42
Sony
Peter Rabbit comfortably held onto top position at the UK box office this weekend with another impressive performance.
Following a bumper opening session, the family film added a further £4.6m to keep it top of the tree. It has now grossed £13.6m after just two weeks on release. With the four-day Easter holiday coming up next weekend Sony is optimistic this rabbit has plenty of spring left in its step.
Babak Najafi's US crime drama Proud Mary, starring Taraji P. Henson, opened on 103 screens this weekend for Sony. It took £27,000 for a low site average of £262.
Universal
Landing best of the rest but a long way short of Peter Rabbit was fantasy action sequel Pacific Rim Uprising, which grossed £1.7m from 506 sites on its opening weekend. This compares to the opening of the previous film in the franchise, which was directed by Guillermo Del Toro, and garnered £2.2m from 494 sites and went on to gross £8.2m. It's a figure the sequel may struggle to match.
Lady Bird passed the £5m mark by adding £149,247 this weekend, while Mary Magdalene dropped off significantly in its second weekend, grossing just £59,280. With a total of £559,540 to date, it looks unlikely to cross £1m.
Disney
Black Panther stayed third this weekend with a gross of £1.4m. That takes it to a running total of £44.9m. Disney is hoping it will run through to the release of The Avengers: Infinity War on April 26.
A Wrinkle In Time opened in sixth place, grossing £675,000 from 504 sites to give it a site average of just £1,339. By comparison, Selma, director Ava DuVernay's previous significant UK release, opened with £851,380 from 355 screens and ended its UK run with a £2.6m gross in 2014.
Coco has now grossed £18.1m ahead of a potential boost over the Easter holiday weekend.
Warner Bros
Tomb Raider dropped a substantial 57% in its second week on release to gross £1.1m over the weekend and £5.5m to date.
Game Night added £295,000 on its fourth weekend on release to take it to a total gross of £4.3m to date.
20th Century Fox
Could The Greatest Showman be set to drop out of the top five? The remarkable film landed fifth in its 15th week, grossing £750,164 over the weekend, a drop of 29%. The musical has now garnered £40.1m in the UK, the biggest international territory for the film.
Steven Soderbergh's iPhone-shot Unsane landed seventh in the UK in its opening weekend, posting £434,413 from 346 sites for an average of £1,256. Including previews, the film's total opening weekend gross is £476,097. Although lower than Soderbergh's most recent films, Logan Lucky (£649,632), Side Effects (£911,315) and Haywire (£1.2m), it is comparatively higher than Unsane's US opening, also this weekend, which was $3.8m. This is based on the rule of thumb that says the US box office is roughly 10 times higher than the UK box office (in the respective currencies. Decent word of mouth could mean the low-fi feature has a decent UK run to come.
Red Sparrow dropped to eighth in the chart, adding £297,675 for a gross to date of £5.9m. Three Billboards Outside Ebbing, Missouri added £142,214 this weekend and is on £14.7m, while The Shape Of Water added £137,594 for £7.3m to date.
eOne
Finding Your Feet grossed £165,518 this weekend and is now up to £5m, while I, Tonya posted a three-day gross of £122,510 to take £3.6m to-date.
Curzon
The Square added £117,191 over the weekend and is up has grossed £437,666 to date.
Studiocanal
You Were Never Really Here is now up to £811,239 after adding a further £100,724 this weekend.
Dogwoof
Vivienne Westwood documentary
Vertigo
Political drama Mark Felt: The Man Who Brought Down the White House, starring Liam Neeson and Diane Lane, opened with £44,911 from 29 sites, including £1,978 in previews.
Eros International
Raid added £25,713 this week to bring its total to date to £152,917.
Sky Cinema
Monster Family added £9,017 and is now up to £313,529.
Arrow
Hirokazu Koreeda's Japanese drama The Third Murder posted £6,796 from 10 sites. Including previews, its gross is £9,171.
Thunderbird
Warwick Thornton's Australian western Sweet Country grossed £6,414 this weekend to take it to a total gross to date of £82,856.