New cinemas in Crouch End, East Dulwich and Ealing add to Picturehouse's reach across London.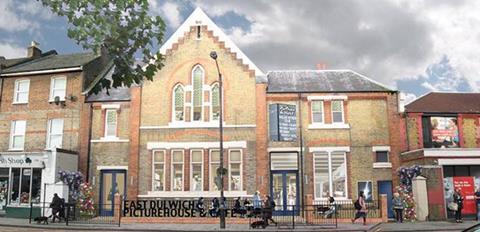 Picturehouse Cinemas today broke ground on two new London additions to their circuit of cinemas – East Dulwich Picturehouse & Café, scheduled to open at the end of 2014, and Crouch End Picturehouse, expected in 2015. Work begins on both cinemas this week and will create more than 100 new jobs.
Picturehouse has also announced their commitment to the Filmworks development in Ealing where a new 1,000 seat cinema will sit at the heart of a new 'Cultural Quarter' in the centre of Ealing, to open in 2017. More details about this development will be announced in due course, according to Picturehouse.
Lyn Goleby, managing director of Picturehouse, said: "Since joining Cineworld, we have had access to substantial capital investment and are now making good progress with our mission to expand our London offer. We are at various stages of planning on seven London sites right now and it's great to be breaking ground on the first ones this week."
East Dulwich Picturehouse & Café
In the former St Thomas More Community Centre on Lordship Lane, East Dulwich Picturehouse & Café will be home to a three-screen cinema with a café-bar and a small courtyard garden to the rear. The seating will be semi-reclining and with state of the art digital projection and sound technology.
The architectural integrity of the building will be preserved and in some areas, brought back to life as Picturehouse plan to reveal the beamwork currently hidden by suspended ceilings. In addition, a green roof will provide a kitchen garden for esoteric British herb and salad varieties, which will be served downstairs as part of the café's fresh food menu.
Crouch End Picturehouse
The site for Crouch End Picturehouse has a history as a cinema despite being used as an office building and warehouse for the last 40 years. In 1911 the Picturehouse Cinema opened at 165 Tottenham Lane, renamed in 1925 as the Perfect Picture House. In 1929 the building was refurbished, new sound equipment installed and the cinema reopened as the Plaza Cinema. Closed at the outbreak of war, the Plaza was badly damaged in an air-raid and demolished soon after.
Rosebery House was built on the site in the late 1950s, and this is the building, which forms the basis of Crouch End Picturehouse. It is the only surviving example of 1950s-60s Modernism in the area, and for this reason aspects of the Modernist ethos have been incorporated into the refurbishment.
The redesign and reuse of the existing structure, with enlargement at the rear, will provide five screens, and approximately 610 seats. There will be a ground floor café leading to a first floor bar. Picturehouse currently work closely with Art House cinema and the continued partnership will provide a mix of films and theatre for Crouch End.