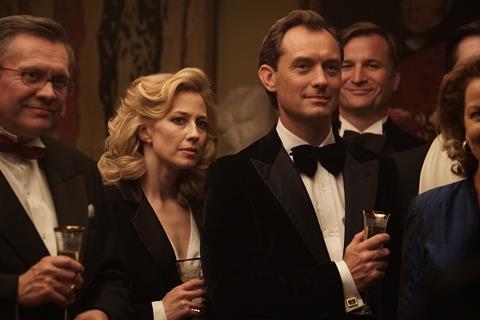 Picturehouse Entertainment has secured UK distribution rights to Sean Durkin's The Nest from US outfit FilmNation Entertainment, strengthening its slate of upcoming awards buzz titles.
The romantic drama, starring Jude Law and Carrie Coon, debuted at Sundance and went on to pick up a hat-trick of awards at the Deauville Film Festival. Picturehouse plans to release in 2021 but has yet to set a date.
Durkin's second feature, after Martha Marcy May Marlene in 2011, explores how life for an entrepreneur and his American family begins to take a twisted turn after moving into an English country manor.
The drama, co-produced by FilmNation, Element Pictures and BBC Films, has recently been building awards buzz after both Law and Coon secured nominations for the upcoming IFP Gotham Awards.
The acquisition is a sign Picturehouse Entertainment intends to re-enter UK distribution with all guns blazing when its sister company, the Cineworld-owned Picturehouse Cinemas exhibition chain reopens no later than May 2021.
"We are fully committed to releasing the best of cinema from around the world and we are resolute in our dedication to getting directors' work onto the big screen where it belongs," said Clare Binns, joint managing director of Picturehouse, who heads up the distribution team. "If this year has taught us anything it is that film matters and we want to celebrate the art of film in the years ahead."
Further awards season hopefuls on Picturehouse's slate include Phyllida Lloyd's Irish drama Herself, which has seen its release delayed until 2021 as a result of the pandemic, and Jerry Rothwell's documentary The Reason I Jump, which won the audience award at Sundance.
Also among its 2021 line-up is Małgorzata Szumowska and Michał Englert's Never Gonna Snow Again, which debuted in Competition at Venice and is Poland's submission for the best international feature at the Oscars. Additional films include Quentin Dupieux's Deerskin, Maria Sødahl's Hope, Jeanette Nordahl's Wildland, Justin Simien's Bad Hair, Ira Sach's Frankie and Lee Haven Jones's The Feast.
Before Picturehouse Cinemas temporarily closed, first in March and then again in October, the distributor released Justin Kurzel's True History of the Kelly Gang in February, Alice Wincour's Proxima in July and Shannon Murphy's Babyteeth in August.