This year's Screen Awards Exhibition Achievement Award winner also called for more women in top jobs.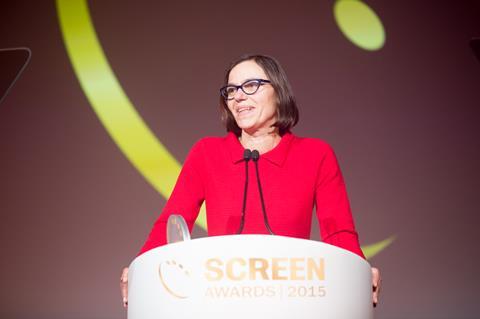 Clare Binns, director of programming and acquisitions for Picturehouse Cinemas and Picturehouse Entertainment, issued a rallying cry for greater diversity and gender equality in the film industry at the Screen Awards last night.
"We live in a country where the audience is diverse and we don't properly reflect that, either behind the camera, in distribution or exhibition," she said to applause from the guests at the awards in London.
"This needs to change not by saying the words but by doing the deeds."
Women in top jobs
Binns, who started out as an usher and projectionist at Brixton's Ritzy cinema and is now one of the most influential and respected figures in the UK film industry, continued: "We also, of course, need a lot more women in top jobs.
"It's pretty criminal that after 40 years it's still in such a bad state."
She echoed concerns raised at the Global Symposium on Gender in Media earlier this month, when actress Geena Davis highlighted the fact that only 17% of business leaders are women and stated: "The change must be immediate and dramatic."
Binns delivered a rousing speech after accepting the Screen Awards' Exhibition Achievement Award, presented by UK Cinema Association CEO Phil Clapp who introduced her as "one of the most influential people in our industry… who can rightly claim to broaden the viewing habits of tens of millions of cinemagoers."
Champion new voices
Notable releases for Picturehouse in recent years include Ben Wheatley's A Field In England and Nick Cave docu-drama 20,000 Days On Earth, from rising directors Iain Forsyth and Jane Pollard.
Binns said: "We need to give directors starting out a chance to get their films made, distributed and shown. Ben Wheatley, Andrea Arnold and Steve McQueen were once unheard of with small films.
"We need to make sure those filmmakers of today get a chance with smaller projects, and exhibitors and distributors need to give them those chances."
Local cinemas
Binns also championed the need for a diverse offering at cinemas around the country.
"I believe in local cinemas having a range of films. It is not one size fits all," she added.
"We've been brave enough to let the business evolve in ways that might seem scary but if the offer is good enough, people will come to cinemas. But we've got to make a real way in which quality films can be made and seen for everybody."
Event cinema
Picturehouse has championed the rise of event cinema in the UK, distributing seasons from the National Theatre, the Royal Shakespeare Company and the Bolshoi Ballet, and one-off events such as the V&A's David Bowie Is Happening Now exhibition and Monty Python Live (Mostly), the latter playing in more than 570 cinemas.
Recalling highlights of her career to date, Binns said: "We had the first satellite Q&A with Ken Loach, which was beamed – as it was then – to a lot of cinemas in Europe.
"And more importantly, at Picturehouse, I was part of the team that when Lyn Goleby brought the Metropolitan Opera to Picturehouses in the UK really showed we can offer more than great film to audiences. And that was pretty groundbreaking.
"Picturehouse were also the first company to go fully digital. So here we are in that world of digital, customer choice, great films, theatre, film, music and who knows what's round the corner."
Binns received a standing ovation as she closed her speech with the statement: "Viva fucking cinema!"