EXCLUSIVE: The first batch of titles to appear at the Irish festival have been announced.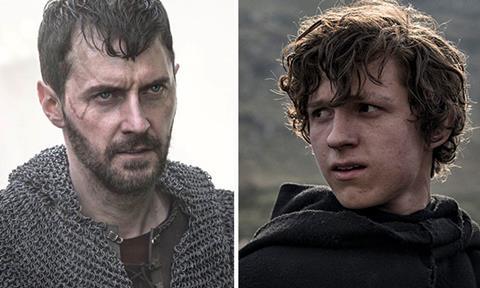 Pilgrimage, which stars Tom Holland and Richard Armitage [pictured], prison drama Maze and Joe Heaney biopic Song Of Granite will all bow at the Galway Film Fleadh (11-16 July).
Maze, which recounts the true story of a mass escape from Northern Ireland's Maze prison in 1983 - will receive its world premiere at the event.
The film, set during The Troubles and told through the eyes of two very different characters across the political divide, is one of several new Irish titles which will screen at Galway.
Director Stephen Burke's feature centres on the relationship between a prison officer and one of the chief architects of the escape, which saw 38 IRA prisoners break out in what was the biggest prison escape in Europe since World War II. It stars Tom Vaughan-Lawlor, Martin McCann and Barry Ward.
Brendan Muldowney's new feature, Pilgrimage, which will have its European premiere, is a thriller set in 13th-Century Ireland. Starring Tom Holland, Richard Armitage and Jon Bernthal, it centres on a group of Catholic monks travelling through an Irish landscape filled with violent, warring clans in a bid to bring a sacred relic to its eventual destination of Rome.
Song Of Granite, the new feature from filmmaker Pat Collins (Silence), charts the rise of traditional Irish folk singer Joe Heaney, and how the songs of his west of Ireland childhood helped shape his complex character. The film makes its European debut at Galway following a well-received screening at SXSW.
In the Name Of Peace: John Hume In America is among the feature documentaries to screen at the Fleadh, where it will have its world premiere. Directed by Maurice Fitzpatrick and narrated by actor Liam Neeson, the film charts how the politician created the framework for peace in Northern Ireland. The documentary includes wide-ranging interviews with former US Presidents Bill Clinton and Jimmy Carter, and UK Prime Ministers John Major and Tony Blair.
Further domestic and international titles to screen at Galway, as well as festival guests and events, have yet to be announced.
The Fleadh has built on its reputation as the premier festival for new Irish cinema in recent years. Last year, it hosted the first screening of Netflix-acquired war drama Jadotville, the true story of an Irish battalion under attack in the Congo in the 1960s, starring Jamie Dornan.
The Young Offenders and A Date For Mad Mary both screened in Galway last year and went on to enjoy international acclaim and success on the festival circuit and theatrically.
Festival Programmer Gar O'Brien said that he looks forward to bringing another strong programme to the west of Ireland. "The Fleadh has a reputation as the place to experience the best in new Irish cinema and we are proud to provide a local, national and international platform for these titles, as well as many others, this July," he said.