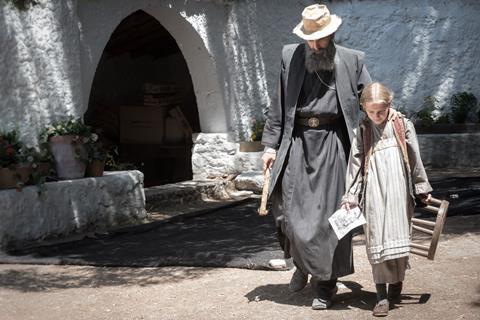 LA-based Pinnacle Peak Pictures, renamed after the sale of the North American Pure Flix streaming platform to Sony, is screening Man Of God to EFM buyers and continuing sales on Walking With Herb as it reports a raft of deals on its slate of family, inspirational and faith films.
Walking With Herb, which is being lined up for a US theatrical release in early summer and features George Lopez as God's motorcycle-riding messenger, has sold to California Filmes for all Latin America.
Female empowerment story Warrior Queen Of Jhansi has gone to Rialto in Australia, Vertigo in the UK, and Corporación El Rosado for all Latin America, while Beckman, an action thriller about a hitman who becomes a reverend, has closed in Latin America (California Filmes), West Indies (ATM), Japan (Pflug), South Korea (Laon-I), and Eastern Europe (Polmedia).
Man Of God, which shot in Greece during the pandemic last summer and gets its market premiere screening, is the kind of local Christian story Pinnacle Peak wants to do more of after years of success exporting US hits like the $100m God's Not Dead global franchise and The Case For Christ.
The company got involved at script stage on the drama from Simeon Entertainment and View Master Films about Greek Orthodox priest Saint Nektarios starring Aris Servtalis with Mickey Rourke and Alexander Petrov.
"We did it specifically to expand our reach as a Christian distributor," said Ron Gell, Pinnacle Peak vice president of international sales and distribution. He added, "We feel, as with many aspects of the business, that it's about local stories, regional production, stories that resonate because they are European stories, say, or Asian stories."
The US-centric films will continue and with good reason. 2014 hit God's Not Dead earned $2.7m of its $4m international haul in Latin America and $550,000 in Poland. The third in the series, 2018's God's Not Dead: A Light In The Darkness earned $2.3m internationally and grossed $600,000 in South Korea, $200,000 in Canada, and $1.3m in Latin America.
The Case For Christ took $1.2m of its $4.8m international gross in South Korea, $1m in Latin America, and $826,000 in Australia and New Zealand.
Gell is introducing God's Not Dead: We The People, the fourth entry in the franchise. Pinnacle Peak is producing and financing – something it wants to do more of – and the film is currently shooting in Oklahoma.
As Gell and his partners look to get involved in larger productions and expand the genres they work in, he is also selling a package of five straight-to-TV rom-coms produced and financed by the company.
We're looking at lots of different types of movies and TV," said Gell, "but we're not doing anything that doesn't have a moral compass."