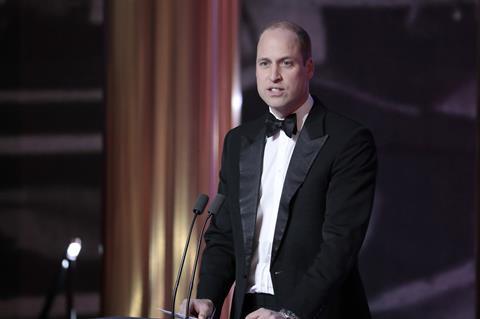 Bafta president Prince William, the Duke of Cambridge, has dropped out of this weekend's Bafta film awards following the death of his grandfather Prince Philip, the Duke of Edinburgh yesterday.
In a statement, Bafta said: "In light of the Duke of Edinburgh's passing, the Duke of Cambridge will no longer be part of Bafta programming this weekend. Our thoughts are with the Royal Family, to whom we offer our deepest sympathy at this time."
Prince William was due to part in a pre-recorded conversation with costume designer Jenny Beavan and hair designer Sharon Martin as part of tonight's film awards (April 10) honouring the craft nominees which will now not be broadcast as part of the ceremony. He was also due to deliver a speech via video celebrating the resilience of the film industry as part of the main film awards on Sunday (April 11).
It is not known what may replace the segments, if anything.
The Saturday broadcast on the BBC has also been moved from 9pm to 8pm due to changes in the schedule as a result of Prince Philip's death.
Prince William has been Bafta president since 2010.