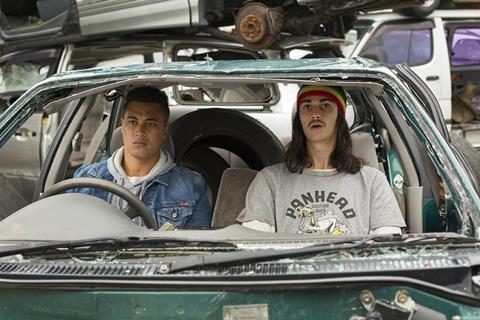 Production has wrapped on the New Zealand Film Commission's Lowdown Dirty Criminals starring Boy lead James Rolleston and Samuel Austin as MPI Media Group prepares to launch talks with Cannes buyers this week.
The comedy caper (see first-look image) shot in Wellington and features some of New Zealand's hottest talent, among them Robbie Magasiva (Sione's Wedding, Wentworth), Rebecca Gibney (Packed To The Rafters) and Cohen Holloway (Hunt For The Wilderpeople).
Paul Murphy (Second Hand Wedding, Love Birds) directs Lowdown Dirty Criminals, which tells the tale of two naïve young men who believe a life of crime will the keys to a better life.
"I immediately loved the script and jumped at the chance to play Freddy," said Rolleston. "It's so good to be back doing what I love, especially with such an awesome cast and crew."
Murphy added, "The calibre of our cast is a testament to Lowdown Dirty Criminals' edgy and hilarious script and I can't wait to see the action-packed story brought to life."
The New Zealand Film Commission is financing the feature, with additional support from Avalon Studios, Global Film Solutions, and Hells Pizza.
Robin Murphy and Sadie Wilson are producing through Lowdown Productions, and Catherine Fitzgerald is executive producer. Monster Pictures will distribute in New Zealand and Australia.