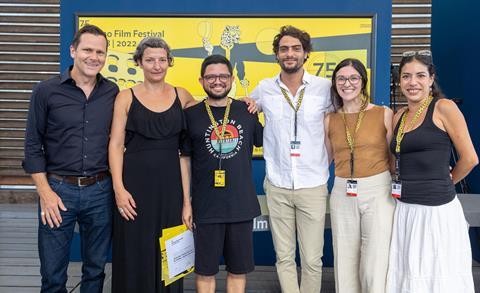 Filmmakers from Cuba, Bolivia and Venezuela were among the big winners at the 20th anniversary edition of Locarno's Open Doors.
The festival's Open Doors programme champions filmmaking from regions where independent cinema is especially challenging, and this year's event focused on Latin America and the Caribbean.
Marcel Beltrán, one of Cuba's most promising filmmakers, received two awards for his debut fiction feature MOA.
The story of a couple's relationship being tested when they find themselves on different sides of an environmental issue in the Cuban town of Moa received the main Open Doors prize – a grant of CHF 35,000 ($38,000) for production or project development. The project also won the Arte Kino International Prize worth €6,000.
Based in Brazil since 2019, Beltrán has been working with the Brazilian producer-distributor Paula Gastaud on the development of MOA through their joint company Mediocielo Films.
Meanwhile, Bolivian filmmaker Yashira Jordán and her producer Alvaro Olmos of Empatia Cinema were presented with awards from France's CNC and Norway's Sorfond for Jordán's fiction feature debut Diamond about a Quechua teenager searching for her long-lost father and discovering a new community to belong to.
The CNC Development Grant comes with a cash prize of €8,000, while the Sorfond award will enable the filmmakers to participate in this year's Pitching Forum during the Films from the South Festival in Oslo in November.
A second Open Doors grant worth CHF15,000 ($15,725) went to Venezuelan debut Kids Swimming In The Lake by Michael Labarca to be produced by Patricia Ramírez Arévalo of Todos Los Ríos.
Other Open Doors awards presented were:
The Rotterdam Lab Award went to Peruvian producer Illari Orccottoma from Lima-based company Maldeojos to take part in the training lab during the 2023 Rotterdam film festival.
A scholarship with a two-month residency at the Villa Sträuli was given by the International Short Film Festival in Winterthur to Cuban filmmaker José Luis Apericio Ferrera whose short Tundra screened at the Open Doors Screenings.
The World Cinema Fund's (WCF) prize to support the development of an audience engagement strategy went to Dominican Republic writer/director/producer Yanillys Perez of YPR Films for her narrative feature When Rain Falls.
Brazil's BrLab gave an award offering travel, accommodation and participation at this year's BrLab project development programme in Sao Paulo in November to Paraguayan project Kokue by director Miguel Agüero and producer Cynthia Garcia Calvo of Asociacion Cultural Arraigo.
Saint Lucia-born director-producer Michelle Serieux picked up two awards: the Open Doors - Moulin d'Andé-CECI Award writing residency and the Open Doors – OIF / ACP / EU Award to further develop her supernatural thriller Black Madonna.
The new Open Doors – LEXIA Insights Award for producers was shared between Ecuador's Daniela Fuentes Moncada and El Salvador's Ricardo B'atz.