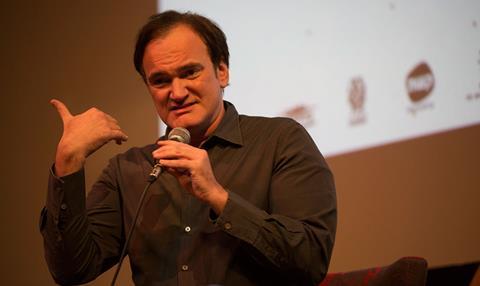 Sony Pictures has moved Quentin Tarantino's Once Upon A Time In Hollywood off the 50th anniversary of the murder of Sharon Tate and will now release it two weeks earlier on July 26, 2019.
Tarantino's hotly anticipated 1970s Los Angeles saga was originally dated for August 9, 2019. The auteur has said he plans to shoot in Los Angeles this summer.
Leonardo DiCaprio, Bradd Pitt and Margot Robbie star in the film, which will include references to the murders carried out by Charles Manson's followers or 'Family', although that is not understood to be the focus of the film. Tate was married to Roman Polanski when she was killed.
Speaking to exhibitors at CinemaCon in April, Tarantino said, "It takes place at the height of the counter-culture explosion. It takes place at the time of the hippy revolution and it takes pace at the height of new Hollywood."
In other dating news, horror title Slender Man moves up two weeks this year, from August 24 to August 10, while Matthew McConaughey and Jennifer Jason Leigh crime drmaa White Boy Rick marking Yann Demange's diretorial dollow-up to '71 remains on September 14 but goes out wide rather than limited.
Searching, the Jon Cho thriller that Sony Pictures Worldwide Acquisitions paid $5m for in Sundance, is moved from August 3 this year to a limited August 24 bow, expanding on August 31.
Ruben Flesicher's Zombieland 2 will debut on October 11, 2019, Little Women on December 25, 2019, and action fantasy Bloodshot starring Vin Diesel, Toby Kebbell and Michael Sheen on February 21, 2020.
In a seaprate announcement, Warner Bros said it has dated Batman spin-off Joker for October 4, 2019. Joaquin Phoenix will star as the villain for Warner Bros and Village Roadshow. Todd Phillips directs.