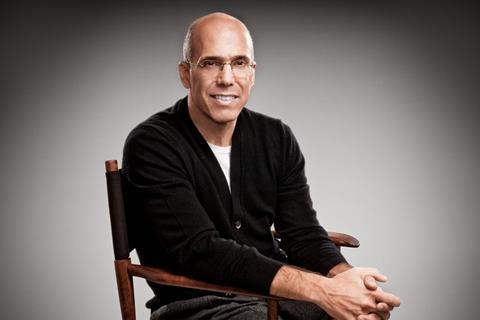 In a spectacular development that marks the first heavyweight casualty from this year's class of digital entertainment start-ups, Jeffrey Katzenberg's short-form portal Quibi has confirmed it is to shut down six months after launch.
The company announced the decision to wind down and sell its assets following a report on The Wall Street Journal. After meeting its liabilities, Quibi said remaining funds will be returned to its investors as specified in the operating agreement
Acknowledging the impact of the pandemic, founder and chairman Katzenberg said, "The world has changed dramatically since Quibi launched and our standalone business model is no longer viable. I am deeply grateful to our employees, investors, talent, studio partners and advertisers for their partnership in bringing Quibi to millions of mobile devices."
According to a press release issued on Wednesday afternoon (October 21), the board recognised it could no longer operate long-term on a standalone basis due to "changed industry landscape and ongoing challenges".
CEO Meg Whitman said, "While we have enough capital to continue operating for a significant period of time, we made the difficult decision to wind down the business, return cash to our shareholders, and say goodbye to our talented colleagues with grace.
"We continue to believe that there is an attractive market for premium, short-form content. Over the coming months we will be working hard to find buyers for these valuable assets who can leverage them to their full potential."
Katzenberg and Whitman raised $1.75bn and debuted the mobile-only platform with "quick bite" entertainment in the early stages of the pandemic lockdown in April.
The platform debuted in the US and Canada and was available on Apple's App Store or Google Play in 30 countries.
However it struggled to draw subscribers after a costly advertising campaign and a three-month free trial period that Quibi said drew 5.6m downloads.
The company denied reports that it was struggling to convert them into paying customers, who had the option of a $4.99 monthly plan or a $7.99 ad-free tier.
It has begun to look at a possible sale and in September reports emerged Quibi was exploring options such as a cash raise or IPO through a merger with a special purpose acquisition company.
What did not help matter was a legal fight with Eko over Quibi's "turnstyle" technology that rotates the content when users flip the phone. Quibi has denied Eko's claims of patent infringement.
Quibi launched with 50 drama, reality and documentary shows including Liam Hemsworth and Christoph Waltz in Most Dangerous Game, Game Of Throne's Sophie Turner in Survive, and more recently Catherine Hardwicke's Don't Look Deeper.
The plan was to add episodes to existing daily and introduce new shows regularly. An illustrious roster of upcoming content suppliers included a Steven Spielberg horror show and content from Guillermo del Toro.
What happens to that content and the platform itself remains to be seen as Katzenberg and Whitman inform staff and talk to their investors. Quibi is backed by lead investors including Alibaba and Madrone Capital, while Hollywood studios and parent companies owned a piece.
Quibi paid to produce content and licensed it for a limited time from the creators, who would eventually get back all the rights. Katzenberg has said there were no plans to own content.
Katzenberg, who co-founded DreamWorks and led DreamWorks Animation, and served as chairman of Walt Disney Studios and president of production at Paramount, has carved a reputation for championing trends in Hollywood and was a passionate advocate of 3D film.
Speaking to Screen in March, Katzenberg said: "People talk how many subscribers will we get on day one etc, but we're in this for the long run."