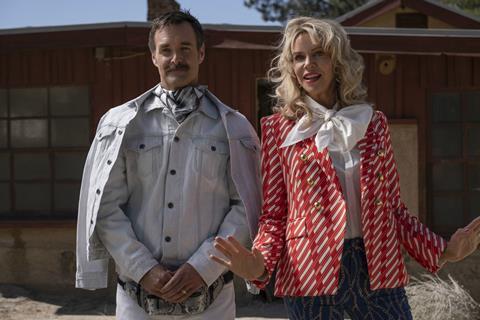 Quibi top brass have been doing the hard sell for the upcoming mobile-only platform this month and attended Sundance on Friday (24), when CEO Meg Whitman apologised for comparing journalists to sexual predators.
Whitman, a corporate veteran who formerly headed HP and eBay, said she had made a terrible mistake after she reportedly told a staff meeting that journalists develop sources in a similar manner to how sexual predators groom young victims.
The issue bubbled up during a televised interview with Variety on an otherwise impressive day as Quibi founder Jeffrey Katzenberg and Whitman flew into Park City to talk up the short-form content platform ahead of the April 6 North American launch.
Katzenberg sat on a panel called 'Defining the Next Era of Storytelling with Quibi creators Lena Waithe, Veena Sud and Kailtin Olson, each of whom is involved in different shows that will be on the platform.
Users around the world will be able to watch Quibi on their smart phones via the app. It is understood international expansion is coming, although the timing is unclear.
On Friday evening, a select group of festival guests sampled content and tried out Quibi's "turnstyle" feature on an incomplete version of the software. Its design enables the viewer to rotate the phone from landscape to portrait mode and watch a full-screen vertical orientation. This is in contrast to the compressed version of landscape that appears when video and content from other platforms are viewed on smart phones.
Katzenberg told Screen he believed subscribers to the service – which will initially cost $8 a month and drop to $5 with ads – will adapt the format to their activity quickly, most likely opting for landscape while seated and vertical while on the go.
Quibi has raised $1.4bn and expects to debut with 175 shows and 8,500 "quick bites" of a broad range of content ranging from seven to 10 minutes long across multiple genres, including chapter instalments of features. A-list talent partners include Steven Spielberg and Jennifer Lopez.
Sample shows on offer included Sud's thriller The Stranger starring Maika Monroe as a rideshare driver who picks up a creepy passenger played by Dane DeHaan; thriller Survive directed by Mark Pellington and starring Sophie Turner from Game Of Thrones as a plane crash survivor; Anonymous Content's comedy The Now from the Farrelly brothers starring Dave Franco; comedy Flipped with Will Forte and Kaitlin Olson (pictured); and Waithe's look at sneaker culture in You Ain't Got These.