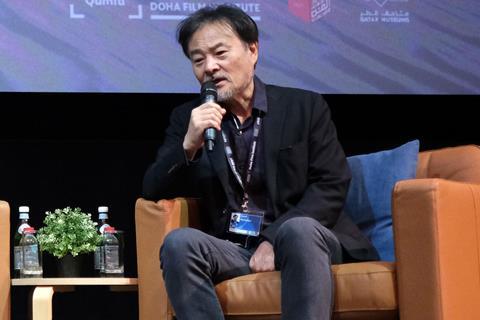 Kiyoshi Kurosawa is planning a return to genre filmmaking. "I haven't achieved the complete perfection of it," the veteran Japanese filmmaker said of his plans to return to the type of filmmaking which first made him an international name.
He was talking at a masterclass reflecting on his career at the Doha Film Institute's talent development event Qumra in Qatar this week.
Kurosawa began his career making softcore "pink" porn, straight to video titles and low budget yakuza thrillers before emerging as both a key figure in the Japanese horror boom of the late 1990s and as an arthouse auteur whose work has screened regularly ever since in Cannes, Venice and Berlin.
Now, he wants to return to his roots.
The veteran Japanese director, whose new Uzbekistan-set feature To The Ends Of The Earth is a Cannes contender, told the Qumra audience he started making Super 8mm shorts as a high school student. He didn't initially study film at university but came under the influence of film critic, Shigehiko Hasumi, his most important mentor.
Kurosawa's breakthrough feature was Cure, a psycho-thriller he completed in 1997 after several years working on low-budget genre pictures. "That helped my career internationally and I became well known as a director."
He made Cure made along the lines of the US movies he so admired with a bigger budget than his straight- to- video titles. At around the same time, the runaway success of Hideo Nakata's Ring further opened up the global market for Japanese horror and Kurosawa went on to make the cult classic, Pulse in 2001.
Latest project
Kurosawa's latest feature, To The Ends Of The Earth, is an Uzbekistan-Japanese coproduction. It follows a young, female Japanese TV presenter who travels to Uzbekistan on assignment with her TV travel show and has various transformative experiences while there.
"Quite apart from filmmaking, I have always had a long interest in the history of Central Asia," the director said of the project. "That's the middle of the Silk Road which connects east with west. I always wanted to visit there. My desire to be there was what drove me to accept the job."
To The Ends Of The Earth is a "straight" drama with comic elements - and with an autobiographical undertow. "This film reflects my experiences of being overseas. I have had a lot of opportunity to visit new locations, being part of film festivals. For the first few days, I have difficulties… but after a few days being there, I suddenly get a moment where I understand the new culture and the people I encounter."
Kurosawa's genre movies may have established his name in the international marketplace but he can barely bring himself to watch them today. "If I look at the films again, very complex feelings will come back to me. I will think I could have done it this way or that way. Those concerns and regrets will be reflected into my new films…so I try not to rematch them," the veteran director said of his earlier features - and why he tries to ignore them.
Nonetheless, the Japanese director is keen to work again with legendary Japanese star Koji Yakusho, who appeared in many of his best known movies, including Cure, Tokyo Sonata, Charisma and Pulse - and was regarded by fans as his muse. Yakusho recently said he was the same age as Kurosawa, "we're getting on," and that they should collaborate again soon. Kurosawa clearly agrees.
"[Yakusho] plays a wide variety of characters. He has a good quality of normality as a human being. Even when he plays extreme characters, people can see that, the normality of the character," the director said of Yakusho's enduring everyman appeal in front of the cameras.