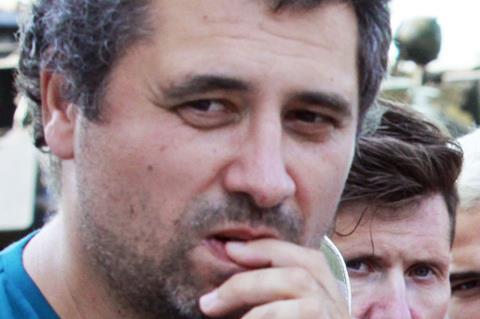 Berlin Golden Bear winner Radu Jude's upcoming feature A Case History is one of 24 features to receive a share of €6.5m ($6.87m) in the latest round of Eurimages co-production support funding.
The film, a co-production between Romania and Croatia, has received €150,000 ($158,000) and marks the Romanian filmmaker's next feature after winning the Golden Bear in 2021 with Bad Luck Banging Or Loony Porn.
Produced by Ada Solomon and Adrian Sitaru of Bucharest-based 4Proof Film, the story will be told in two parts. The first follows a production assistant working for a Romanian production company who drives around Bucharest on assignment for a large multinational corporation. The second part will follow several characters as their make a corporate film. Shooting is expected to begin this summer or early autumn.
Also receiving funding is Passage from Georgian-Swedish director Levan Akin, which has received €400,000 ($423,000). Akin is the writer-director of Cannes 2019 hit And Then We Danced and has described Passage as "a story about love and longing for a place to belong. It's about chosen families, created by people who have no place within their biological families".
A further title is Animal from Greece's Sofia Exarchou. The Greece-Austria-Bulgaria-Romania co-production received €418,000. The film, which follows a group of performers at a resort on a Greek island, is produced by Maria Drandaki and Maria Kontagianni for Homemade Films. Exarchou's first feature, Park, premiered at Toronto and won the New Directors Award in San Sebastian.
Two animated projects will receive the most funding in this round of €500,000 ($528,000) each. These are Savages! from Switzerland's Claude Barras and Valemon: The Polar Bear King from Norway's Mikkel Sandemose. Savages! will mark Barras' first feature since the Oscar-nominated My Life Is A Courgette and follows an indigenous girl who works to protect an orphaned baby orangutan, found in the jungle of Borneo.
The Eurimages Executive Committee decided the awards via an online meeting.
Eurimages Co-production Support 2022 funding
A Case History (Rom-Cro) dir. Radu Jude, €150,000
A Massacre (Ger-Switz-Fr) dir. Milo Rau, €236,000 - documentary
Animal (Greece-Austria-Bul-Rom) dir. Sofia Exarchou, €418,000
Apathy (Fr-Greece-Est-Swe) dir. Alexandros Avranas, €390,000
Chain Reaction (Ser-Slovenia-N Mac) dir. Dragan Bjelorgrlić, €350,000
Just One Drop (Ger-Geo-Bul) dir. Stefan Tolz, €100,000
Life-Size Pauline (Switz-Bel) dir. Nadège de Benoit Luthy, €250,000
Meril (Swe-Fr) dir. Victoria Verseau, €117,000 - documentary
Passage (Swe-Den-Fr) dir. Levan Akin, €400,000
Re-Writing (Sp-Port-Fr) dir. Víctor Iriarte, €232,000
Samia (It-Ger) dir. Yasemin Samdereli, €450,000
Savages! (Switz-Fr-Bel) dir. Claude Barras, €500,000 - animation
Storms (Fr-Bel) dir. Dania Reymond-Boughenou, €300,000
Superluna (It-Bel) dir. Federico Bondi, €430,000
The Black Hole (Est-Fin) dir. Moonika Siimets, €220,000
The House With No Address (Turkey-Greece) dir. Hatice Aşkın, €97,000
The Last Hero (Slovenia-Greece) dir. Žiga Virc, €126,000
The Rye Horn (Sp-Bel-Port) dir. Jaione Camborda Coll, €312,000
The Spring (Slovak-Czech-Hun) dir. Ivan Ostrochovský, €260,000
The Sweet Bitterness Of Ripe Pomegranates (N Mac-Bul) dir. Andrej Ilievski Volkashin, €48,000
Triumph (Bul-Greece) dir. Petar Valchanov, Kristina Grozeva, €135,000
Under The Flame Of The Lamp (Port-Fr) dir. André Gil Mata, €140,000
Valemon: The Polar Bear King (Nor-Bel) dir. Mikkel Sandemose, €500,000 - animation
Vincent Must Die (Fr-Bel) dir. Stéphan Castang, €350,000