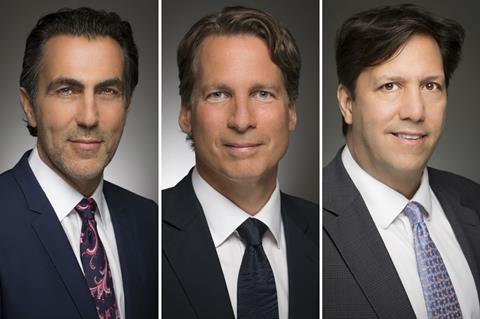 Italian producer and distributor Rai Cinema has become a member of the Globalgate consortium that co-produces and co-finances wide release local-language films in key international territories.
Rai Cinema becomes the consortium's twelfth member, joining Lionsgate in the US, Televisa in Mexico, Gaumont in France, Nordisk in Scandinavia, Tobis in Germany, Belga in Benelux, TME in Turkey, Kadokawa in Japan, Lotte in Korea, Cine Colombia in Colombia and Paris Filmes in Brazil.
Globalgate was designed by founders Clifford Werber, William Pfeiffer and Paul Presburger to source and curate intellectual properties and remakes, with priority access to its members' libraries, which contain over 20,000 titles.
Presburger is also CEO of Lionsgate's Pantelion Films, which focuses on the US Hispanic market with projects such as recent release Overboard and No Manches Frida, the Spanish-language remake of German comedy Fack Ju Gohte.
Globalgate's slate includes 35 films in development, with some projects scheduled for production this year. The consortium is also now working on television series.
Rai Cinema's 01 distribution arm claims a 15% market share in Italy, with recent releases including Il principe abusivo, A Casa Tutti Bene and Metti La Nonna In Freezer.
Werber, Pfeiffer and Presburger commented: "Italy has a legendary film culture, with a record 14 Academy Awards for Best Foreign Language Picture and a robust local industry, driven by Rai Cinema. We are proud to have Paolo Del Brocco and the Rai family join ours, as we together deliver premium intellectual property to Italian producers, filmmakers, and talent for commercial and distinctive Italian films that will soon result. We are also eager to adapt and produce Rai's iconic stories as local-language films in other key territories around the world."
Rai Cinema CEO Paolo Del Brocco added: "Rai Cinema, as the main driver of the Italian film industry, is looking forward to our Globalgate collaboration and the access to strong intellectual properties from all over the world in order to support Italian independent producers and amplify the possibility to realise film adaptation in Italy. We are also proud to support the promotion of Italian creativity on the world stage, sharing our stories for possible adaptation as local language films with Globalgate's prestigious international partners."