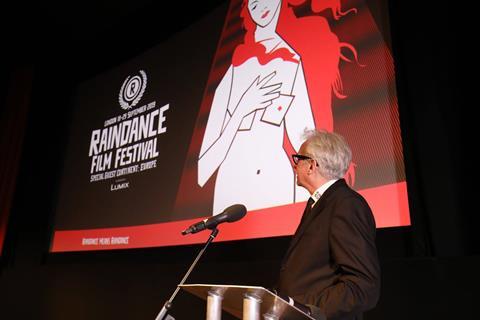 The UK's Raindance Film Festival has set October 28 – November 7 as its 2020 dates, moving from its previous September slot for its 28th edition.
At a time when many events are cancelling, postponing or changing their format due to the coronavirus pandemic, Raindance founder Elliot Grove has bullishly confirmed that this year's event will take place, saying, "Raindance returns to London and is happening from 28 October – no ifs, no buts."
Films in the competitive feature section will compete for eight awards, including best international feature, best UK feature and the Discovery award for debut films.
Other competitive sections include an immersive VR strand, a competitive shorts section, and a special retrospective for the yet-to-be-announced recipient of the Raindance Icon award.
Non-competitive strands at the event this year will include Queer, Sonic, A Dirty World (for environmental films), Homegrown (for UK films), Absurdities, Politico, and Viva Voce: Stories of Women, Female Gaze.
The festival's submissions deadline is July 6.
Raindance is a qualifying festival for the Oscars, Baftas and Bifas. Last year's event attracted an audience of 16,000 to venues in London's West End.