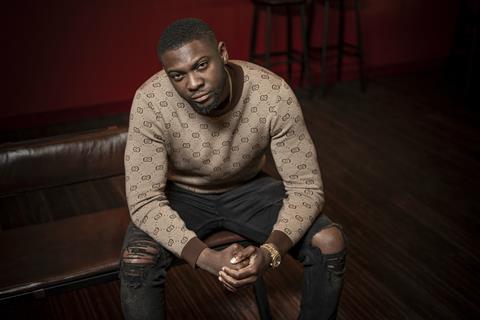 Blue Story director Rapman has questioned Vue Cinemas' statement that 25 "significant incidents" took place at screenings of the film in the first 24 hours, which led to its removal from all 91 Vue venues in the UK & Ireland this weekend.
Speaking on the BBC Breakfast news programme on Wednesday morning (November 27), Rapman, whose real name is Andrew Onwubolu, said, "They say there had been a number of incidents, but where's the receipts for that? Where's the proof? Where's the evidence?"
"Obviously the one that they're talking about was caught on camera – we're a camera generation, if anything happens the youth are going to film that and you will see it. How come we haven't seen any footage of these [other] incidents?" he continued.
"I thought that was just something to say to cover their decision."
Rapman claimed Paramount Pictures, which produced the film and is distributing it in the UK and Ireland, had offered extra security to cinemas in specific areas, prior to the film's release on Friday, November 22.
"They call them 'hot sites'," he said. "Paramount offered, 'Because there's a lot of youth coming to watch this film, we can help you with security.' They could've easily taken them up on that offer. I wouldn't even have minded if [Vue] had said, 'The offer's still not enough, so we may pull it from that screen'."
Screen has contact Vue and Paramount for comment.
Rapman said Vue had contacted him to explain further its reasons for pulling the film, but he had declined to speak to the cinema chain. "I said, 'I've read your statement of why they've pulled it, so we've got nothing to talk about.'"
The director said the removal of his debut feature from all 91 Vue venues had saddened him greatly. "I never thought this would happen," he said. "It was breaking my heart. I just think why? Why my film? Not Frozen, not the other ones, but pull out Blue Story. When we found out that we lost so many screens, I felt like my legs were swiped from underneath me. We were doing really well, selling out screen after screen, then all of a sudden we've lost all the Vues."
In its statement on Monday, Vue said: "The decision to withdraw Blue Story was not one taken lightly or without careful consideration of our experience across the country. During the first 24 hours of the film over 25 significant incidents were reported and escalated to senior management in 16 separate cinemas. This is the biggest number we have ever seen for any film in such a short time frame."
Important message
Rapman reiterated the film – which incorporates elements of his own south London upbringing – does not glorify gang violence, but instead contains an important message. "If you're in a gang, and you're living in that life and you're rolling with a group of friends who are doing bad things, this film shows you the end result of that," he said.
"You will leave that cinema thinking twice about your situation carrying on in this life that you're living."
Vue first pulled the film after a brawl at the company's Birmingham Star City venue on Saturday evening, involving up to 100 people and leading to five arrests. An image widely circulated online showed a group of youngsters at the venue, with one of them holding a machete. The site was showing at least 12 films at the time of the violence.
Showcase Cinemas followed Vue in pulling the film from all its 21 venues on Sunday evening but reinstated the film on Monday, after 'careful consultation' with Paramount.
Related stories: