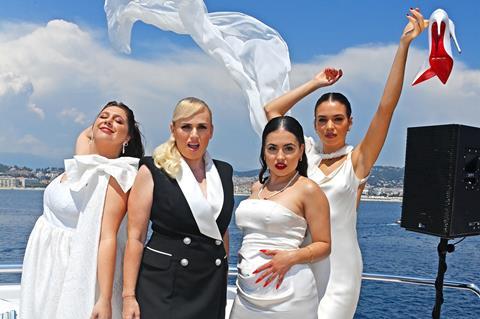 Bridesmaids and Pitch Perfect star Rebel Wilson is set to direct her first feature, The Deb, a musical comedy set in rural Australia.
Based on an Australian musical, The Deb is to set to be produced by Unigram's Amanda Ghost, Len Blavatnik, and Gregor Cameron and sister company AI Film. The two companies recently co-financed and produced Tetris with Marv Studios for Apple TV+.
The film will be produced in partnership with Rebel Wilson's Camp Sugar Productions and Australian producer Bunya Productions, which has credits including The Drover's Wife and Mystery Road. Danny Cohen executive produces for Access Entertainment.
Originally premiering at Sydney's Australian Theatre for Young People (ATYP) last year, The Deb theatre production was written by Hannah Reilly and includes original songs from singer-songwriter Meg Washington.
Wilson will also co-star in the film. Production is set to begin in Australia in September of 2023.
The Deb follows lovable farm-girl and high school outcast Taylah Simpkins, played by Natalie Abbott, who is certain the upcoming Debutante Ball, 'the Deb,' is her one chance to redefine herself. When her cynical city cousin Maeve (Charlotte MacInnes) is arrives in town, she thinks the ball is a "heteronormative shit-show" and immediately disrupts the status quo. In their search for the spotlight, Taylah and Maeve dig deep to find self-acceptance — and a date to the Deb.
The film also stars Tara Morice, Jay Laga'aia, Shane Jacobson and Rebel Wilson.
Wilson said: "The Deb is my type of movie — full of humour, full of heart, and uniquely Australian but with universal themes. It came out of my scholarship program at the non-profit Australian Theatre for Young People, a program that I'm very proud of and has had incredible success. If there was ever a movie I was going to direct, it would be this one."