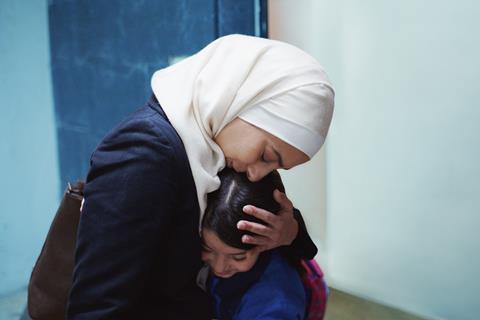 The Red Sea International Film Festival (Red Sea IFF) has unveiled the line-up for its Competition and Arab Spectacular strands.
The festival will take place from November 30-December 9 in the port city of Jeddah under the theme 'Your Stories, Your Festival.'
Red Sea IFF's line-up throws a spotlight on films made in the MENA region and includes 36 feature length and short films from Saudi Arabia, including documentaries and titles produced by the Red Sea Film Foundation.
The Competition strand includes 17 films from Asia, Africa, and the Arab world with a jury presided over by the filmmaker Baz Lurhmann.
Norah, the first production to be shot entirely in the AlUla region of Saudi Arabia by Tawfik Alzaidi will world premiere, screening alongside Backstage, the feature debut by directorial duo Afef Ben Mahmoud and Khalil Benkirane, a behind the scenes tale of a touring dance troupe.
Farah Nabulsi presents her debut The Teacher, shot in the West Bank, starring Imogen Poots; Six Feet Over from Karim Bensalah tells of the son of an Algerian diplomat who decides to work for Muslim undertakers, while Parviz Shahbazi's Roxana from Iran looks at a man who tries to better himself for love.
Also in competition are Amjad Al Rasheed's Cannes Critics' Week film Inshallah A Boy, Pakistan's Oscar entry In Flames by Zarra Kahn, and Amanda Nell Eu's Tiger Stripes and Baloji's Omen,
Kaouther Ben Hania with Four Daughters, nominated as Tunisia's submission for the Academy Awards, plays in the Arab Spectacular section which features 11 titles.
The Arab Spectacular line-up also includes Tamer Ruggli's debut Back to Alexandria starring Nadine Labaki and Fanny Ardant as a daughter and mother, overcoming estrangement. Music video director Yasir Alyasiri makes his i debut with HWJN, starring Baraa Alem and Nour Alkhadra. Meshal Al Jaser presents a humorous thriller with NAGA, which follows a teenage girl left stranded in a desert racing against the clock to meet her curfew, pursued by a rabid camel. The Godus Brothers present Fever Dream, about a retired football star and his daughter searching for social media acclaim.
The festival will also give special screenings to Maïwenn's historical romance Jeanne du Barry, starring Johnny Depp, which was supported by Red Sea's financing arm and opened Cannes, and to Dhafer L'abidine's Saudi-UAE co-production To My Son, which world premieres at the festival.
Mohammed Al-Turki, CEO of the Red Sea Film Foundation and Shivani Pandya Malhotra, managing director of the Red Sea International Film Festival said: "Our theme this year of Your Stories, Your Festival, is borne out by the incredible selection of films from the region – which spans both masters as well as debut filmmakers who are testament to the wealth of talent on offer from this part of the world, which is so important to showcase in all its diversity. We feel it is particularly timely to use the medium of film to look at what connects us, and to give a platform to the voices and experiences of people in our region and beyond to foster insight, understanding and compassion. We look forward to once again welcoming the global film community in Jeddah for our third edition."
Kaleem Aftab, director of international programmes said: "The Red Sea: Competition highlights the complexities of the modern world, as societal norms change, which presents a challenge to families, patriarchy and peaceful co-existence. These films from Asia and Africa, including the Arab world, are a stark reminder of the many issues facing humanity today."
Antoine Khalife, director of Arab programmes and film classics said: "The vibrancy of Arab cinema, particularly in Saudi Arabia, stands as a testament to the region's flourishing film industry. Arab filmmakers boldly confront sensitive themes, weaving together narratives that explore family dynamics, patriotism, and the rediscovery of values. Arab cinema is increasingly mirroring the realities of everyday life. In addition to a programme which celebrates the richness of Arab, African and Asian filmmaking talent – we are proud to present projects from 31 female filmmakers overall, backing our commitment to women in cinema."
Red Sea 2023
Special Screenings
To My Son (World Premiere) Dir Dhafer L'abidine (Saudi-UAE)
Jeanne Du Barry Dir Maïwenn (Fr-Saudi)
Red Sea International Film Festival: Arab Spectacular
Four Daughters Dir Kaouther Ben Hania (Fr-Saudi-Ger-Tun)
Hajjan Dir Abu Bakr Shawky (Saudi-Egypt)
Khaled El Sheikh Between Two Fires, Art And Politics Dir Jamal Kutbi (Saudi)
Fever Dream Dir Faris Godus (Saudi)
Three Dir Nayla Alkhaja (UAE-Thai)
Hwjn Dir Yasir Alyasiri (Saudi-UAE)
Back To Alexandria Dir Tamer Ruggli (Fr-Switz-Egypt)
Naga Dir Meshal Aljaser (Saudi)
Shamareekh Dir Amr Salama (Egypt)
Yesterday After Tomorrow Dir Abdulghani Alsaigh (Saudi)
A Nose And Three Eyes Dir Amir Ramses (Egypt-UAE)
I Am Al-Ittihad Dir Hamza Tarzan (Saudi)
Red Sea International Film Festival: In Competition
Inshallah A Boy Dir Amjad Al Rashid (Jordan-Saudi-Egypt-Fr-Qatar)
Behind The Mountains Dir Mohamed Ben Attia (Tun-Fr-Bel-It-Saudi-Qatar)
Norah Dir Tawfik Alzaidi (Saudi)
Hiding Saddam Hussein Dir Halkawt Mustafa (Nor-Iraq)
Backstage Dir Afef Ben Mahmoud, Khalil Benkirane (Mor-Tun-Bel-Fr-Qatar-Nor-Saudi)
The Teacher Dir Farah Naboulsi (UK-Pal-Qatar)
Dalma Dir Humaid Alsuwaidi (UAE)
Mandoob Dir Ali Kalthami (Saudi)
Six Feet Over Dir Karim Bensalah (Alg-Fr)
Dear Jassi Dir Tarsem Singh Dhandwar (India)
In Flames Dir Zarra Khan (Pak-Can)
Wakhri (One Of A Kind) Dir Iram Parveen Bilal (Pak-USA)
Sunday Dir Shokir Kholikov (Uzb)
Tiger Stripes Dir Amanda Nell Eu (Mal-Taiwan-Sing-Fr-Ger-Neth- Indonesia-Qatar)
Roxana Dir Parviz Shahbazi (Iran)
Omen (Augure) Dir Baloji (Bel-Neth-DRC)
Evil Does Not Exist Dir Ryûsuke Hamaguchi (Japan)