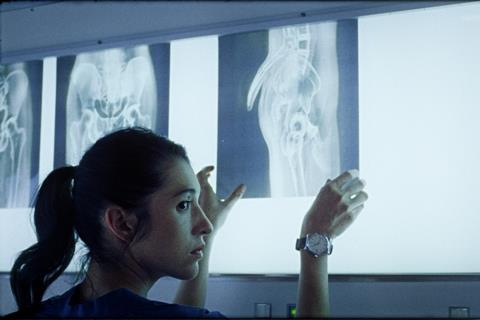 Chinese sales agent Rediance has acquired sales rights to Locarno international competition title Piaffe, the first feature by Berlin-based visual artist and filmmaker Ann Oren.
The German film, which will receive its world premiere at Locarno in August, is produced by Kristof Gerega, Sophie Ahrens and Fabian Altenried of Berlin-based Schuldenberg Films.
Shot on 16mm, the story follows an introvert foley artist who becomes empowered when a horsetail starts growing out of her body while working on a commercial featuring a horse. Written by Oren and Thais Guisasola, the cast includes Simone Bucio, Simon(e) Jaikiriuma Paetau and Sebastian Rudolph.
Oren describes her film as "a love letter to the less recognised magicians of cinema and a playful celebration of otherness".
Born in Tel Aviv, Oren's art has been exhibited at institutions such as the Moscow Biennial for Young Art, the Hammer Museum, the Tel-Aviv Museum, Anthology Film Archives, Apexart and KINDL - Zentrum für zeitgenössische Kunst. After relocating to Berlin in 2015, Oren began to shift her focus from video art and installations to cinema.
In 2020, her 16mm short film Passage premiered in Oberhausen Short Film Festival and won several awards including best experimental short at Slamdance. This short serves as a prequel to Piaffe.
Rediance CEO Xie Meng said: "We were very captivated by [Oren's] delicate audio-visual approach that masterfully contemplates animality, interspecies and gender identity."
Beijing-based Rediance recently boarded non-Chinese titles The Human Surge 3, from Argentine director Eduardo Williams, as well as Belgian director Bas Devos' untitled new film. Both deals were announced during Cannes.