Willem Dafoe and Gael Garcia Bernal also among those called up for jury service at the 67th Cannes Film Festival.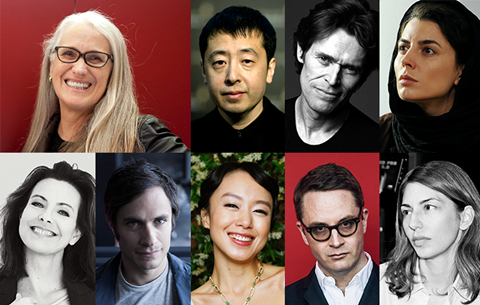 The Cannes Film Festival has named the jury for its 67th edition, comprising eight world cinema names from China, Korea, Denmark, Iran, the US, France and Mexico.
Jane Campion, the New Zealand filmmaker who won the Palme d'or for The Piano, was previously announced as the president of the jury, which will include five women and four men.
Those selected include Nicolas Winding Refn, the Danish director, screenwriter and producer who won Best Direction at Cannes in 2011 with Drive. His most recent film, Only God Forgives, played in Competition at Cannes last year.
Also chosen is Sofia Coppola, the US director and screenwriter whose debut The Virgin Suicides was selected for the Directors' Fortnight at Cannes in 1999. Coppola, who won a screenwriting Oscar for Lost in Translation, made it into Cannes Competition in 2006 with Marie-Antoinette and returned to the festival last year to open the Un Certain Regard strand with her most recent feature, The Bling Ring.
The US is represented twice on the jury with the inclusion of actor Willem Dafoe. The two-time Oscar nominee - for Shadow of the Vampire and Oliver Stone's Platoon - has appeared in 80 films including Wes Anderson's Grand Budapest Hotel, Martin Scorsese's The Last Temptation of Christ, Lars von Trier's Antichrist and Anthony Minghella's The English Patient. He will next be seen in Anton Corbijn's A Most Wanted Man and Abel Ferrara's Pasolini.
From Mexico, the jury has selected actor, director and producer Gael García Bernal. After breakthrough roles in Iñárritu's Amorres Perros and Alfonso Cuarón's Y Tu Mamá También, Bernal starred in features such as The Motorcycle Diaries by Walter Salles, Pedro Almodóvar's Bad Education, The Science of Sleep by Michel Gondry, Babel by Gonzalez Iñárritu, and The Limits of Control by Jim Jarmusch.
In 2005, he founded his Canana production company with Diego Luna and in 2010, after a few short films, directed his first feature film, Deficit, selected for Critics' Week at Cannes.
Two major names have been selected from Asia, including Jia Zhangke, the Chinese director, screenwriter and producer behind A Touch of Sin, which won the Best Screenplay prize when it played in Competition at Cannes last year.
After the success of his first film, Xao Wu (1998), he directed Platform (Zhantai, 2000) and Unknown Pleasures (Ren xiao yao, 2002) selected for Venice and Cannes respectively. Still Life picked up the Golden Lion in Venice in 2006. He also presented 24 City in Competition at Cannes in 2008 and I Wish I Knew for Un Certain Regard in 2010.
Also from Asia is Jeon Do-yeon, the first Korean actress to receive the Best Actress award at Cannes for her role in Secret Sunshine (2007) by Lee Chang-dong. Jeon Do-yeon started out as a TV actress before moving into cinema. Her major films include I Wish I Had a Wife by Ryoo Seung, My Mother, The Mermaid by Park Jin-pyo and The Housemaid by Im Sang-soo, presented at Cannes in 2010. She has just finished shooting Memories of the Sword by Park Heung-sik.
The jury also includes two other actresses. The first is Iran's Leila Hatami, whocame to international attention with her role in Asghar Farhadi's Oscar winning featureA Separation, which also picked up the Golden Bear at the Berlin Film Festival in 2011. She picked up the best actress award in Karlovy Vary for her role in Ali Mosaffa's Last Step in 2012.
The second is French actress Carole Bouquet, who made her debut in 1977 with Luis Buñuel's That Obscure Object of Desire and has since alternated between arthouse and blockbuster productions. A Bond Girl in 1981 in For Your Eyes Only, she worked with Bertrand Blier on Buffet Froid (1979) and Too Beautiful For You (1989) for which she won the César for Best Actress. She appeared in Le jour des idiots by Werner Schroeter, Michel Blanc's Dead Tired and Embrassez qui vous voudrez, Lucie Aubrac by Claude Berri, L'Enfer by Danis Tanovic, Nordeste by Juan Diego Solanas, which was at Cannes in 2005, and Unforgivable by André Téchiné.
The jury decide select winner from the 18 films in Competition, to be announced on stage at a ceremony on May 24. The winner of the Palme d'or will be screened during the festival's closing evening on May 25, in the presence of the jury and the entire team of the winning film.
THE JURY
Jane Campion – President (NZ)
Carole Bouquet (France)
Sofia Coppola (US)
Leila Hatami (Iran)
JEON Do-yeon (South Korea)
Willem Dafoe (US)
Gael Garcia Bernal (Mexico)
JIA Zhangke (China)
Nicolas Winding Refn (Denmark)