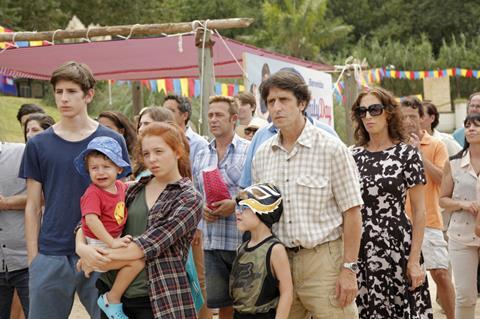 Remake rights have been doing a roaring trade in Cannes. South Korea's Company L has acquired Chilean hit No Filter while the Philippines' Glimmer Entertainment has bought the Argentinian rom-com A Boyfriend For My Wife.
Both deals were done by Guido Rud's Buenos Aires-based FilmSharks through its division The Remake Co., one of the world's most active purveyors of remake rights. Spain's Latido Films has assembled an inaugural remakes sales slate where titles include the Argentinian thriller 4x4, a hit at Ventana Sur last December, and The Distinguished Citizen.
Meanwhile former Lionsgate colleagues Erik Feig and Patrick Wachsberger are lining up an English-language remake of hit Thai thriller Bad Genius, and Spanish producers Bowfinger International Pictures and Amiguetes are teaming up with Mother Superior in Uruguay on a Spanish-language version of Israeli thriller Big Bad Wolves.
"You can double and triple the international sales incomes by adding remake rights into films that have a high concept that can be tailored to different cultures," explains Rud.
The FilmSharks chief got the remakes bug more than a decade ago after he was struck by the high concept originality of local Argentinian rom-com A Boyfriend For My Wife, about a disgruntled married man who wants a divorce and hires a lothario to seduce his wife.
Rud studied how local powerhouse Patagonik had licensed US remake rights on local hit Nine Queens to Warner Bros. In 2008 he secured remake rights from Patagonik to Boyfriend and struck his first remakes rights deal, optioning US rights to Warner Bros.

"There was a whole new universe of rights to exploit worldwide," says Rud, who operates his remakes business through FilmSharks subsidiary The Remake Co and has struck more than 12 foreign-language deals on the property to China, France, Mexico, and Brazil, among others, as well as South Korea, where All About My Wife drew more than 4.5m admissions in 2012.
Other hot remake titles include Argentinian comedy Ten Days Without Mom (pictured), which opened at number one at the Italian box office earlier this year as 10 Giorni Senza Mamma. It has also sold to Studiocanal in France, where production has begun. Mexican smash The Noble Family has gone in more than 10 territories including India, Germany, and Colombia, and major US and Asian deals are in the works. Rud licensed stage play rights on Argentinian hit 2+2 to Mexico and Spain.
Significantly, while all the above films stem from properties that were hits in their territories of origin, Rud notes this is not essential. "You need to find films with distinguishing features and you don't have to have a box office hit – just a high concept story that can fly," he says.
FilmSharks either bundles remake rights into sales of original films on its regular slate or licenses stand-alone remake rights on titles where it is not selling or has not sold the original film. Examples of the latter include the 2005 Argentinian crime thriller The Aura and the Brazilian erotic comedy The Upside Down from 2010.
Buyers pay Filmsharks an option fee for approximately 18 months (typically renewable once or twice), on top of a purchase price, and Rud will also negotiate a back-end based on a film's net profit from box office in the territory and the international sales. There might also be a box-office bonus in the deal, and possibly an executive producer credit and a production bonus.
With the agreement of the original film's rights-holder, buyers can also pay extra for holdbacks to ensure the original is not released in the remake territory, or is delayed until after the new version opens.
"This is a business that has so much scale," said Rud.
*In a separate, traditional sales deal, Filmsharks has licensed Jose Luis Cuerda's Spanish sci-fi comedy Some Time Later to France's Tamasa Distribution, and HBO Europe has taken pay-TV/SVOD rights.