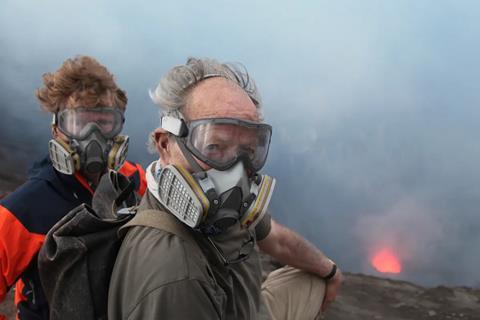 A report on the UK's documentary film industry has called for "urgent policy intervention" as the creative sector works to rebuild in the wake of the coronavirus crisis.
One suggestion is to increase the proportion of lottery funds ring-fenced for documentary from 9.1% to 25% for 2020-21.
The BFI awarded Doc Society £1.8m for documentary activity for 2020-21, out of a total lottery funding pot of £20.9m. The report suggests this support should be 20-25% of the total pot, up to £5.2m.
Another recommendation is to amend the UK's current film tax relief to a rebate of up to 50% of qualifying spend, compared to the current 25% for fiction films.
Keeping It Real: Towards A Documentary Film Policy for the UK is written by Steve Presence, Andrew Spicer, Alice Quigley and Lizzie Green and published by University of the West of England (UWE Bristol).
The survey, which was supported by Doc Society and launched at Sheffield Doc/Fest last year, and the report are both part of the UK Feature Docs research project, funded by the Arts and Humanities Research Council. In summer 2019, it surveyed 200 UK-based producers and directors who had worked on at least one feature documentary.
The survey results were finished before the coronavirus pandemic hit but the authors noted, "The problems identified here will persist in a post-Covid-19 world."
Presence, senior lecturer in film studies at UWE Bristol, said: ''This is the largest survey of UK feature doc directors and producers ever conducted and it was done just in the nick of time. The evidence base it provides demonstrates just how under-served the feature documentary sector was before the pandemic. It is not a question of pleading a special case, but of recognising that the situation for many documentary filmmakers has been absolutely desperate for years in the UK."
Support does not match consumer demand
The report noted that the UK feature documentary industry has seen significant growth since 2001, when just four documentaries were released in cinemas. By 2018, 110 feature documentaries were released theatrically and documentaries now comprise more than one quarter of all films made in the UK.
But funding and support has not kept up with consumer demand. One key issue identified in the report is that "too often, feature docs are seen either as part of the independent film industry on the one hand, or as a breakout element of the television industry on the other. As a result, and as evidenced in the report, the feature docs sector has been significantly under-supported by both film and television policy alike."
The report also includes case studies with directors and producers including Kim Longinotto, Jeanie Finlay, Elhum Shakerifar, Joanna Natasegara and John Battsek.
Key findings include chronic under-funding and too-low budgets of documentaries; finance concentrated on too few organisations; a diversity problem in the documentary film world; and a sector that lacks structure or coherence.
Based on those findings, the report makes 15 preliminary recommendations for action, which will become the basis for a seven-week consultation period that opens today (June 11). The report also acknowledges that the survey has a focus on finance and production and that more discussion is needed with distribution and exhibition.
DIVERSITY
1. Prioritise evaluating interventions
 over data collection. A proposed sector steering group should tackle inequality not by encouraging more research but by collating and evaluating effectiveness of various initiatives across the sector.
SECTOR DEVELOPMENT
2. Convene a sector steering group or coordinating body, which can improve lobbying efforts and information sharing and could include representatives from the likes of Doc Society, Guardian Documentaries, Scottish Documentary Institute, Sheffield Doc/Fest, Open City Docs, The Whickers, Bafta, BBC Storyville, British Council, Bertha DocHouse, Directors UK, BFI London Film Festival, Northern Ireland Screen and ScreenSkills.
3. Improve the cultural profile of feature docs within the industry; such a steering group could also help more clearly articulate the cultural, social
 and economic benefits of a thriving feature-length documentary film. Documentaries should be included in wider industry conversations and decision-making and the report calls for wider screen sector agenices and institutions to have a responsiblitiy for championing and resourcing documentaries.
4. Coordinate strategy and support for nonfiction filmmakers across London, the nations and regions, with one specific goal to boost knowledge-sharing, networking opportunities and support for filmmakers outside London.
5. Enhance support for ethical challenges involved in making documentary. Documentary filmmakers are acutely suffering from stress and anxiety and sector-wide coordination should happen with the Film & TV Charity's mental health taskforce.
6. Training, education and research: explore with ScreenSkills how more practical business and entrepreneurial skills can be developed. Also maintain universities' roles in cultivating film literacy and film history, and ask the BFI's Statistical Yearbook to offer more documentary-specific data.
7. Explore the potential for a UK-based, dedicated documentary market and conference, potentially in collaboration with the BFI London Film Festival.
FUNDING
8. Increase the proportion of Lottery funds ringfenced for documentary. For 2020/2021, the BFI awarded Doc Society £1.8m (9.1 per cent) out of a total of £20.9m for all documentary activity, which the survey respondents would like to see increased by 20-25% up to £5.2m.
9. Diversify funders and strengthen ties with the BFI Network. The filmmakers surveyed would like to see more plurality of organisations providing that funding, potentially also including BFI Network to help identify funding especially outside of London.
10. Increase public service broadcasters' support for feature documentary. Even in tough times for the PSBs, the report calls for more budget for the BBC's Storyville strand; the creation of a similar series at Channel 4; Britbox adding feature documentaries; ITV and Channel 5 should introduce dedicated budgets for feature docs. It calls on Ofcom to regulate these kinds of changes.
11. Ring-fence funds for documentary in Creative Europe replacement funding. As the UK will not participate in the next Creative Europe Media programme, the report asks for the BFI's negotiations for any replacement funding include a ring-fenced pot for documentary.
12. Encourage support for innovation and experimentation, asking funders to encourage risk-taking and experimentation in terms of content, style and aesthetics.
13. Enhance support for development, as the lack of development funding is also a key barrier to entry for working-class filmmakers. The BFI Vision Awards and the BFI Network's Insight: The New Producer Programme should include more documentary producers in future.
14. Strengthen UK producers' position as international co-production partners. Wherever possible, existing and additional production funds should be made eligible for international co-productions to ensure UK producers are attractive co-production partners.
15. Introduce amendments to the UK film tax relief for documentary. Because documentary films are usually much lower budgeted than fiction films, the report suggests that the relief should be 50% of the budget, that total spend requirements be lower for docs, that pre-Company formation costs such as licensing archive are eligible costs, and that doc projects should not be subject to the same audit fees as fiction films.