Lukas Moodysson, Laurent Cantet and James Gray to receive honorary awards; focus on Greece and environmental docs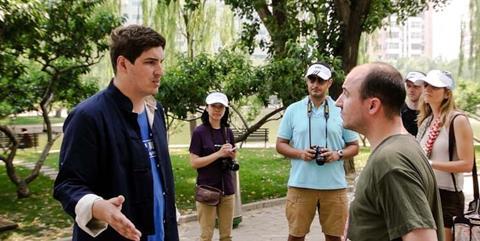 The Reykjavik International Film Festival is to open on Sept 25 with This Is Sanlitun by the Icelandic-Irish director Robert Douglas and will end Oct 6 with the Nordic premiere of Palme d'Or winner Blue Is The Warmest Colour.
RIFF will honour three filmmakers with an award for creative excellence. They are the Swedish filmmaker Lukas Moodysson, US director James Gray and France's Laurent Cantet.
RIFF's main award, the Golden Puffin, will be awarded to a film in the category New Visions, which screens debut and sophomore films of up and coming filmmakers.
The 12 films are:
Bethlehem, Yuval Adler
Coldwater,Vincent Grashaw
Free Fall, Stephan Lacant
La Jaula De Oro, Diego Quemada-Diaz
Les Apaches, Thierry de Peretti
The Lunchbox, Ritesh Batra
Miss Violence, Alexandros Avranas
One Shot, Robert Orhel
Salvation Army, Abdellah Taïa
Spaghetti Story, Ciro De Caro
The Geographer Who Drank His Globe Away, Alexander Veledinsky
White Shadow, Noaz Deshe
The Open Seas category contains exciting works by both established and new directors and includes:
A Touch Of Sin, Jia Zhangke
Blue Is The Warmest Colour, Abdellatif Kechiche
Bright Days Ahead, Marion Vernoux
Celestial Wives Of The Meadow Mari, Aleksey Fedorchenko
Gerontophilia, Bruce Labruce
Only Lovers Left Alive, Jim Jarmusch
Sex, Drugs And Taxation, Christoffer Boe
Still Life, Uberto Pasolini
The Hour Of The Lynx, Sören Kragh-Jacobsen
The Missing Picture, Rithy Panh
Tom At The Farm, Xavier Dolan
When Evening Falls On Bucharest Or Metabolism, Corneliu Porumboiu
RIFF will have a focus on Greece this year, screening five new films from the country.
Another focus RIFF this year is documentaries about environmental issues, competing in the Different Tomorrow category. Films include Greedy Lying Bastards and Pandora's Promise.
For more information about RIFF's film program visit: http://en.riff.is/Films2013
For information about juries and categories visit: http://en.riff.is/juries
For information about RIFF's panels and discussion program visit: http://en.riff.is/content/specialevents