Fox's sequel leads the way thanks to preview-boosted $4.8m (£2.9m) debut; Disney's Winter Soldier heads up Fri-Sun weekend; Fox's Grand Budapest Hotel becomes Wes Anderson's best-ever UK performer.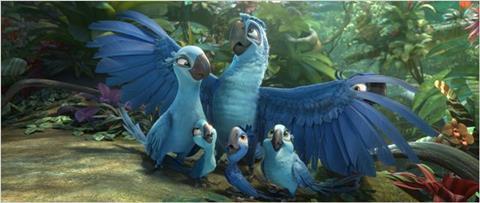 With the Easter school holidays kicking into gear, Rio 2 has landed top of the UK box office.
Fox's sequel flew to a $4.8m (£2.9m) debut from its 534 sites, including just over $1.2m (£700,000) in previews. It's worth noting that based solely on Fri-Sun, Rio 2's $3.6m (£2.2m) would have seen it chart third.
The opening is up on Rio which managed $2.5m (£1.5m) from its 522 sites, including $180,000 (£108,505) in previews, on its way to $22.5m (£13.56m). The school holidays should see the sequel well set to overtake that tally.
Also for Fox, The Grand Budapest Hotel is now director Wes Anderson's best-ever UK performer.
The comedy-drama is up to a terrific $15.2m (£9.15m) following a $1m (£606,801) sixth weekend, surpassing Fantastic Mr. Fox's $15m (£9.03m). A UK result of over £10m is all-but guaranteed.
Starred Up is up to $2.2m (£1.3m) after three weeks in play.
DISNEY
With a very respectable drop of just 34% (excluding previews), Captain America: The Winter Soldier fought its way to a further $4.6m (£2.76m).
Disney's latest Marvel outing is now up to $18.1m (£10.9m) in the UK, and has now surpassed The First Avenger's $15.7m (£9.5m) result. Next in its sights is Thor's $23.3m (£14m) and Iron Man's $28.9m (£17.4m) UK runs.
Based solely on Fri-Sun grosses, The Winter Soldier would have topped this weekend's chart.
Also for Disney, Muppets Most Wanted added $1.5m (£897,000) in its second weekend, following a 24% drop (excluding previews), for $5.8m (£3.5m) to date. It'll need a strong Easter holidays to have a chance of hitting £10m, but The Muppets' $27.8m (£16.8m) UK tally is likely to be a target too far.
PARAMOUNT
Setting sail in the UK with a $4.1m (£2.5m) debut from its 455 sites was Paramount's Noah, charting third.
That marks the second-best opening for director Darren Aronofsky, behind Black Swan's $4.6m (£2.8m) bow from 356 sites which included $91,000 (£54,697) in previews. Black Swan is also Aronofsky's best-ever UK performer with $26.8m (£16.19m).
It's worth noting that based on Fri-Sun takings alone, Noah would have found itself in second.
EONE
The third new release of this week's top five came in the form of eOne's Divergent in fourth.
Neil Burger's adaptation of Veronica Roth's young adult novel scored a $2.9m (£1.8m) debut from its 424 sites. By comparison, The Hunger Games launched with $8.1m (£4.9m) from 511 and Twilight opened with $4.2m (£2.5m) from 446.
Divergent posted Burger's second-best UK opening behind Limitless' $3.5m (£2.1m) from 364 sites. However that opening did include $817,000 (£492,939) in previews, so Divergent is the director's best-ever Fri-Sun debut.
Also for eOne, Need for Speed added $229,000 (£138,340) in its fourth weekend in play and has taken $7.8m (£4.7m) to date.
STUDIOCANAL
Landing in 71 sites through StudioCanal, The Double got off to a strong start with a $467,000 (£281,794) debut, including previews. That's a site average of almost $6,600 (£4,000) and marks the second success for the distributor for a tricky sell, following Under the Skin.
It's also an opening up on director Richard Ayoade's debut feature Submarine which took $405,000 (£244,476) from 60 sites, including $40,000 (£24,260) in previews. Based solely on Fri-Sun, The Double's $370,000 (£223,064) is roughly on par with Submarine's $365,000 (£220,216).
Also for StudioCanal, Non-Stop added $315,000 (£189,815) for $15.2m (£9.2m) to date, while Under the Skin is up to $1.6m (£977,457) and should cross the £1m mark in the coming week.
WARNER BROS
With a potential boost to come as a result of the school holidays, The Lego Movie posted a $433,000 (£261,000) eighth weekend and has now built up an excellent $53m (£32m) through Warner Bros.
Also for Warner Bros, 3D sequel 300: Rise of an Empire has amassed $12.8m (£7.7m) after five weeks in play.
ARTIFICIAL EYE
With a non-final second weekend of $52,000 (£31,124), The Past has grossed $248,000 (£149,581) to date in the UK through Artificial Eye.
LIONSGATE
With a hefty drop in its second weekend, The Legend of Hercules took $47,000 (£28,322) from its 155 sites for $586,000 (£353,416) to date through Lionsgate.
Also for Lionsgate, A Long Way Down has amassed $1.5m (£878,835).
DOGWOOF
Released in 16 sites through Dogwoof, A Story of Children and Film posted a UK debut of $13,000 (£7,809).
METRODOME
Godfrey Reggio's documentary Visitors grossed $1,200 (£700) on its UK bow from three sites through Metrodome.
UPCOMING RELEASES
This week sees saturation releases for Lionsgate's The Quiet Ones (opens April 10) and eOne's The Raid 2.
eOne's Calvary, Universal's The Last Days on Mars, Kaleidoscope's Zhumba: A Zebra's Tale and Arrow's Pioneer all receive wide releases, while Soda's Half of a Yellow Sun and Artificial Eye's The Lunchbox are among the films receiving a limited release.