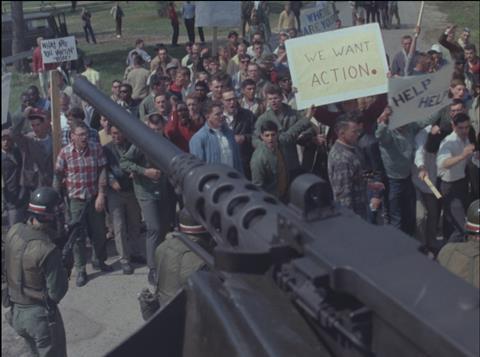 Riotsville, USA director Sierra Pettengill and The Eclipse filmmaker Natasa Urban discussed the different ways documentaries can use historical archive footage in the final CPH: DOX A Morning With… session in Copenhagen on Thursday (March 31).
US professional archival researcher and filmmaker Pettengill said she felt compelled to make her film, about the full-scale town centre replicas built by the military in the 1960s for riot training, because they are "not part of our historical memory in the USA."
Initially finding some intriguing footage on the US Natural Archives, she ordered a transfer without knowing the content. What she saw — military officers role-playing riots with some dressed up as Blank Panthers and hippies — was, she said, "horrifying and mind-blowing."
With no readily available context for the footage, she said that a lot of the six-year journey to make the film was about her personally trying to understand what it was, and how it fits into the context of history. "What does this reenactment say about larger issues of race, policing, protest and the media?" She also noted she felt it was "my responsibility as a white filmmaker" to bring such a story to light.
Having made several previous films surrounding white supremacy, including Town Hall and The Reagan Show, Pettengill knew her film, constructed entirely out of late 1960s archival footage of such things as the 1968 Miami Republican Convention and the concurrent race riot in Miami's Liberty City, would still be resonant today.
"The USA is a country founded on slavery," she noted. "The conversation [surrounding race] waxes and wanes in the public consciousness, but it's never not relevant."
For Serbian filmmaker Urban, her experience of making The Eclipse — a title inspired by the cyclical nature of solar eclipses, which mirror the cyclical nature of conflict — was grounded in personal memories. She turns her camera on her own family, who lived through the numerous wars of the 1990s, to present a portrait of Serbian perpetrators of war crimes.
She too felt a responsibility to highlight the atrocities carried out by her own people. "Through our conversations I'm asking [my family] to go back in time and face the past, rather than what is usual which is we don't talk about that decade in the 90s where Serbia waged four wars."
Urban explained that she used the structure of her father's diaries from the decade as a personal archival counterpoint to the well-documented atrocities that were happening at the time.
She chose important events from the 1990s, such as the beginning of the siege of Sarajevo in April 1992, and then recreated events recorded in her father's diary at the same time, including hiking in the mountains and helping a neighbour rescue her books from war-torn Croatia.
"The whole film was shot on celluloid," she said. "This being a film about memory, I thought that celluloid is almost like a materialisation of memory.
"We shot some footage on super 16; it's real, it's present, it's the bones and meat of the film. Every now and then I used Super 8, which represented a portrait of my own memory, something subjective. I tried to achieve that by, for example, using expired film, 40/50/60 year old film that I hand developed to achieve certain looks."
Visual impact
While the look of Riotsville, USA is largely determined by the archive it employs — largely digital transfers — Pettengill explained that she utilised some "obviously digital manipulation" at certain points, including pixelations, rotoscoping and hyper close-up text. "We were trying to reflect what it feels like to be working with archives, to be inside the material and trying to make decision"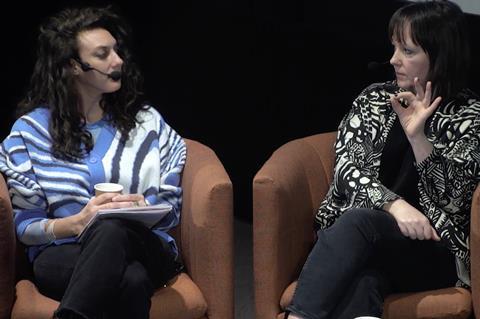 The film also employs a voice over, written by Tobi Haslett, that Pettengill said she always knew would be necessary. "The film is full of upsetting and ugly imagery, and I wanted a moral voice to offset that and to talk through the complications of the archive. It was about asking questions that are reflective of the conversations we were having while we were making the film."
The voiceover was also essential to an audience understanding that this is a film made in the present tense. Pettengill said it was never her goal to "create an immersive experience to make you feel like you are in 1968. We are trying to work out what it all meant from a present perspective."
Importance of editors
Both filmmakers gave credit to the editors they worked with to help shape hundreds of hours of footage into a film resembling their original vision; Nels Bangerter on Riotsville, USA and Jelena Maksimovic on The Eclipse. Urban described the "unconditional trust" that exists between a filmmaker and editor, while Pettengill agreed it was a "vulnerable relationship"
As both filmmakers prepare for their documentaries to reach a wider audience, they admit they struggle with predicting what impact these films may have.
"It's a complex question with a difficult answer," said Urban. "We live in such a divided world, by maybe if people who have watched the film can, for a brief moment, let go of their principles and start talking to each other. That's the only way out of this mess.
"I am strict about the division between activism and filmmaking," continued Urban. "The role of a filmmaker is to make as good a film as possible, and if that film can be used for some later activism then that's great."
Describing her film as "a personal reckoning with American history," Pettengill emphatically agreed that filmmaking and activism should be two separate things. "I feel no political ambiguity about what the film is and how I'd like it to live in the world. I'm just not good at assigning it a role. I think the politics can be clear but the impact can stay open.
"I have come to think that one important role of documentary filmmaking is record keeping," she added. "This footage is on the record; it exists and will be its own archive."