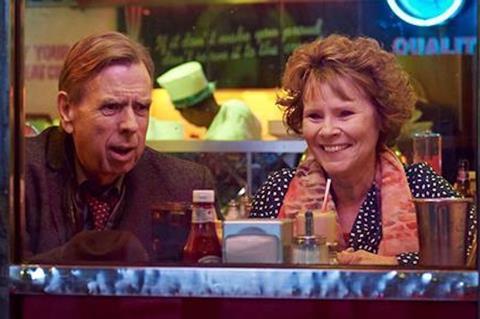 Roadside Attractions has acquired Richard Loncraine's dance comedy Finding Your Feet, and is partnering with Stage 6 Films on US distribution.
Imelda Staunton, Timothy Spall, Celia Imrie, David Hayman, John Sessions and Joanna Lumley star in the story of 'Lady' Sandra Abbott, who discovers that her husband of 40 years is having an affair with her best friend.
Abbott seeks refuge in London with her estranged older sister Bif, who is her total opposite. Sandra is a fish out of water next to her outspoken, serial dating, free-spirited sibling. Bif eventually invites Sandra to meet her colourful, defiant and energetic group of friends who start to show Sandra that retirement is in fact only the beginning, and that divorce might just give her a whole new lease on love and life.
Roadside and Stage 6 recently collaborated on the distribution of Hello My Name Is Doris, which grossed more than $14m theatrically in the US.
Iternational sales agent Protagonist Pictures has sold the film in multiple territories including Italy (Cinema SRL), Greece (Feelgood Entertainment), Japan (New Select), Middle East (Front Row Entertainment), Scandinavia (SF Studio), China (DDDream) , Latin America (California Filmes), Philippines (Viva Entertainment), Benelux (Paradiso), Portugal (Outsiders), Spain (Wanda Vision SA), Israel (Shoval), Hungary (Cirko), Poland (M2), Former Yugoslavia (MCF) and Airlines (Jaguar Distribution Corp). eOne previously acquired rights in the UK, Canada, Australia and New Zealand.
Finding Your Feet is an Eclipse Films and Powder Keg Pictures production with Catalyst Global Media and Fred Films in association with Bob & Co, Twickenham Studios and Ultimate Pictures. Roadside plans to release the film in Spring 2018. eOne will release the film in the UK on February 23, 2018.
Loncraine directs from an original screenplay by Nick Moorcroft and Meg Leonard. Andrew Berg, John Sachs, Leonard, Moorcroft, James Spring and Charlotte Walls produced. Gideon Lyons, Graham Begg, Lesley Wise, Brian Berg, Lynne Berg, Andrew Boswell, Sunny Vohra, Paul Dewinter, Bob Benton, Jay Firestone, Charles Low, John Stevens, Adam Thrussell, and Richard Whelan all served as executive producers.
Roadside Attractions co-founders Howard Cohen and Eric d'Arbeloff said: "Finding Your Feet is one of Richard Loncraine's best. It is brilliantly acted and completely endearing, emotional and delightfully charming and funny from start to finish. It is the kind of feel-good, character rich, second chance at life comedy that we absolutely love."
The deal was brokered by CAA and Vanessa Saal, managing director of sales and distribution for Protagonist Pictures. Cohen oversaw negotiations on behalf of Roadside.