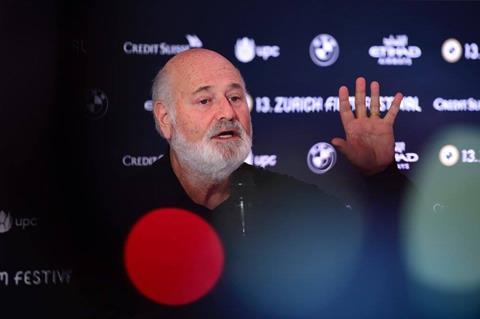 This Is Spinal Tap director Rob Reiner is at work on new feature documentary Albert Brooks: Defending My Life, about his friend and contemporary, the comedian and filmmaker Albert Brooks.
Reiner will be interviewing Sharon Stone (who starred in Brooks' 1999 film The Muse) in Cannes this week for the project. Among other interviewees included in the doc are Larry David, James L Brooks, Conan O'Brien, Sarah Silverman and Jonah Hill, all firm admirers of Brooks.
"He [Brooks] is a good friend of mine. We met in high school," Reiner said. "This is a pleasure for me because I have always looked up to Albert and in, a way, been intimidated by him. He's brilliant. He's a genius. There is nobody like him. He is a unique one of a kind comedian… I've always wanted to make a film about him to let people know what I know about him."
Reiner and Brooks first met in drama class at the Beverly Hills High School in LA.
"The drama class that I was in had Julie Cobb, who was Lee J Cobb's daughter; Melinda Marx, who was Groucho Marx's daughter, Larry Bishop who was Joey Bishop's son, Richard Dreyfuss and then Albert. We all said our names. Albert, who was 15, didn't hear my last name. He said, 'I know Carl Reiner. Do you know Carl Reiner?" I said '"yeah, I know Carl Reiner. He's my father. That's the first meeting we ever had."
Reiner and Brooks have stayed in touch ever since. They even briefly shared a house.
The Albert Brooks doc is being made through the newly relaunched Castle Rock Entertainment film division which has a war chest of $175 million and where Reiner is CEO.
"I've never made a movie that anybody had wanted to do, never. Look at Princess Bride, Spinal Tap, Stand By Me or When Harry Met Sally - nobody wanted to make these films. At Castle Rock, because we financed our own films, I could do it. It was like heaven for a filmmaker. I wanted to be able to do that for other filmmakers as well," Reiner explained the decision to revive the company.
The aim now is for Castle Rock to give "safe harbour" to filmmakers, just as it did in its heyday.
Through Castle Rock, Reiner is also working on a Spinal Tap sequel. As well as directing, he will again play hapless director Marty DiBergi while Michael McKean, Christopher Guest and Harry Shearer will be back as the British rockers David St. Hubbins, Nigel Tufnel and Derek Smalls.
The 1982 original, This Is Spinal Tap, is screening on the beach in Cannes this week as it celebrates its 40th anniversary.
Independently from Castle Rock, Reiner and his wife Michele are making another feature documentary, The Power Worshippers, about the rise of right-wing Christian nationalism over the last 40 years in the US.