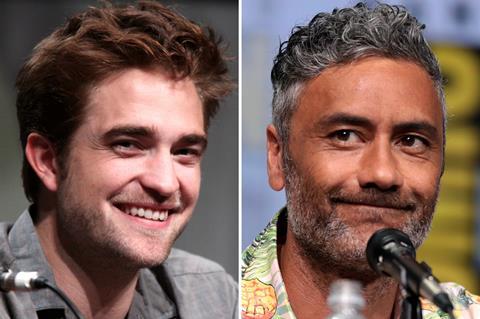 Robert Pattinson will receive the honorary festival president's award at the closing ceremony of this year's Karlovy Vary Film Festival (KVIFF) on July 7. The festival opens on June 29.
The festival presents the award to "outstanding personalities of world cinema". Previous recipients include Jean Reno, Charlie Kaufman, Susan Sarandon and last year's winner, Casey Affleck. The closing night film is Gilles Lellouche's Sink Or Swim.
Pattinson, who recently appeared in David and Nathan Zellner's Damsel and will soon be seen in Claire Denis sci-fi adventure High Life, is signed up to Waiting For The Barbarians, the latest film from Embrace Of The Serpent director Ciro Guerra.
Thor Ragnarok director Taika Waititi and producer Carthew Neal are also guests of this year's festival. They will attend the opening gala which is a screening of Milos Forman's Loves Of A Blonde on June 29. Waititi and Neal are shooting their latest film, Jojo Rabbit, in the Czech Republic.
Waitit and Neal previously collaborated on Hunt For The Wilderpeople which screened at KVIFF in 2016. Waititi's What We Do In The Shadows played at the festival in 2014.
Also attending KVIFF this year is actor Joana Ribeiro, who will join Terry Gilliam in presenting his latest film The Man Who Killed Don Quixote in which Ribeiro stars.
Previously announced events include a concert from actor Tim Robbins and his group The Rogues Gallery Band. Robbins is receiving the Crystal Globe for outstanding contribution to world cinema at the festival.