Robocop and Inside Llewyn Davis dwarf I, Frankenstein in the UK online buzz charts.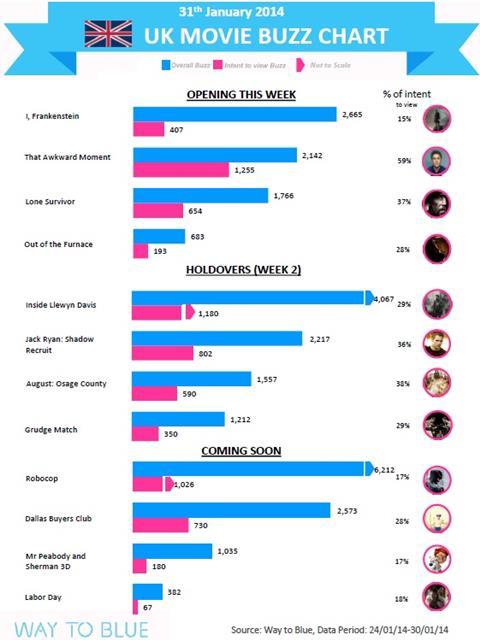 The update on the Frankenstein story, starring Aaron Eckhart, generated the most overall buzz online of films opening this week - but intent to view was low.
That honour goes to Zac Efron comedy That Awkward Moment, which generated three times as much 'intent to view' buzz as I, Frankenstein. A total of 59% of those who generated online buzz for the friendship comedy expressed an interest in seeing the film.
The film that generated the most online buzz in the UK this week was Robocop, the reboot of the 1980s action classic. Intent to view was also high.
Inside Llewyn Davis generated the most online interest of films already out, ahead of spy thriller reboot Jack Ryan: Shadow Recruit, proving word of mouth is strong on the Coens tale of a struggling musician in the early 60s.
For an explanation of the Way to Blue chart and its methodology, which tracks 'overall buzz' and important 'intent to view' buzz, click here.
To view the chart in pdf format click here.