Emir Baigazin's The River and Benjamin Naishtat's Rojo have tied at the top of Screen's complete 2018 Toronto Platform jury grid.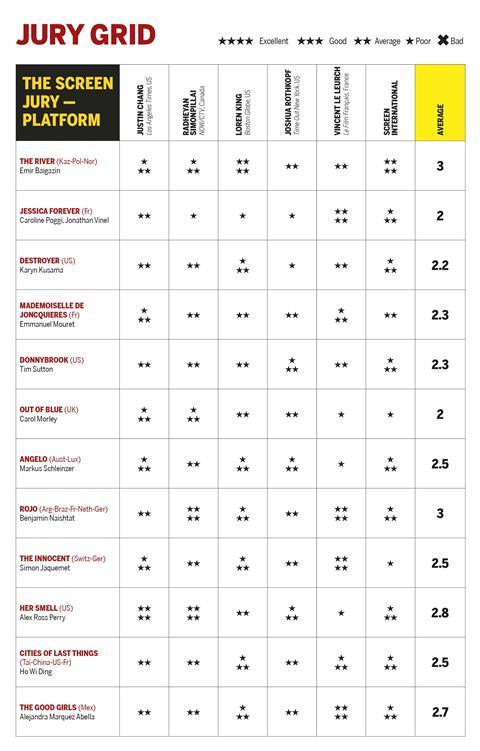 Both films achieved an average of three stars out of four across the six international critics. A score of three stars on the grid represents 'good'.
The River is about five young brothers living under a controlling father in a remote Kazakh village, whose lives are transformed when they discover a nearby river which had been kept secret from them.
Naishtat's Rojo follows a strange man who arrives at a restaurant in a quiet provincial city in an Argentinian province where he insults a renowned lawyer. The community supports the lawyer and the stranger is humiliated and thrown out of the place.
Final two films to screen
One of the last two films to screen was Ho Wi Ding's Cities Of Last Things, that recorded a 2.5 average. It received three stars from Boston Globe's Loren King, Vincent Le Leurch of Le Film Français and Screen's own critic.
Cities Of Last Things is a triptych about three signficiant moments in the life of an ordinary man in which the future, present and past are told in reverse chronological order,
Alejandra Marquez Abella's The Good Girls scored an average 2.7 stars. It received four stars from Le Leurch and three stars each from King and Screen's own critic.
Ilse Salas and Flavio Medina head the cast of The Good Girls, a drama tackling Mexico's 1982 financial crash and its impact on a well-to-do socialite and her husband.
The average across all the scores of all the films on the Platform grid was 2.5, halfway between 'average' and 'good'.
Earlier this year at Cannes, Lee Chang-dong's Burning achieved the record score in the history of Screen's jury grid, with a 3.8 average out of four stars.
Last year's Platform jury grid was won by Warwick Thornton's Sweet Country, which achieved a 3.5 average and also picked up the Platorm prize from the festival.