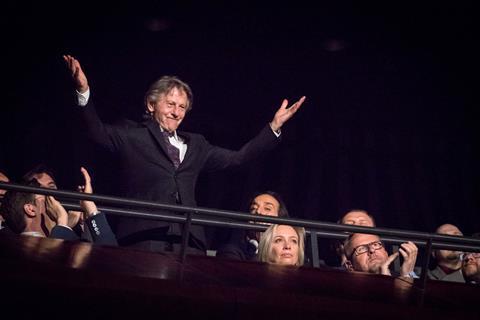 Roman Polanski's An Officer And A Spy was the biggest opening film in France on Wednesday (November 13) as it launched theatrically amid controversy following a fresh allegation of rape against the director on the eve of its 550-screen release.
Jérôme Hilal, head of theatrical at distributor Gaumont, tweeted on Wednesday evening the film had garnered 46,412 admissions on its opening day, equivalent to a gross of roughly $338,000. Of this total,18,313 admissions were generated in Paris.
Added together with the 10,268 tickets sold for preview screenings, the film had drawn 56,580 spectators ($413,000) to date, according to Hilal.
Further films opening on Wednesday included Ford v Ferrari, Little Joe, Noura's Dream and Countdown.
Wednesday's box office for An Officer And A Spy, a drama exploring France's notorious 19th-century Dreyfus Affair, was the third-best opening-day result for a French-language film of 2019 after Guillaume Canet's Little White Lies 2 and hit comedy Serial Bad Weddings 2.
The final leg of Gaumont's promotional campaign for An Officer And A Spy came to a grinding halt late last week after newspaper Le Parisien published an accusation by photographer Valentine Monnier that Polanski raped her in 1975 when she was 18.
Polanski has denied the allegation via his lawyer who said Polanski is planning legal proceedings against Le Parisien.
Polanski at the French box office
Polanski's recent films have had a mixed reception at the French box office. His last two films Venus In Fur and Based On A True Story sold 264,000 and 110,000 tickets respectively, for approximate grosses of $1.8m and $803,000. His 2002 Oscar winner The Pianist drew 1.8m spectators ($12.9m) and The Ghost Writer attracted around one million admissions.
The question of whether the work of an artist like Polanski can or should be separated from the person has become a hot topic in France.
French director and writer Nadine Trintignant, whose daughter Marie Trintignant was murdered by her musician partner Bertrand Cantet in 2003, said she would defend Polanski in an interview with news channel BFMTV. "If he wasn't Roman Polanski, everyone would be leaving him alone," she suggested.
However, the minister for equality Marlène Schiappa told French media she would not be going to see An Officer And A Spy. "I believe in supporting all women who say they have been a victim of sexist or sexual violence," she told Le Figaro newspaper. "If, in this country, there needs to be one person with political responsibility who believes these women, it should perhaps be the person in charge of these issues in the government. So, out of principle, I will not be going to the cinema to see this film, but I'm not stopping anyone else from doing so."
International distributors canvassed by Screen earlier this week said they expected to maintain their plans for the film's release.
*As France reports box office in admissions, Screen has reached the dollar gross by multiplying the number of admissions by the 2019 average ticket price, according to the CNC, of €6.64.