Director Ron Howard has said there are still "great things" happening in film, despite the prevalence of "manufactured product" in cinema.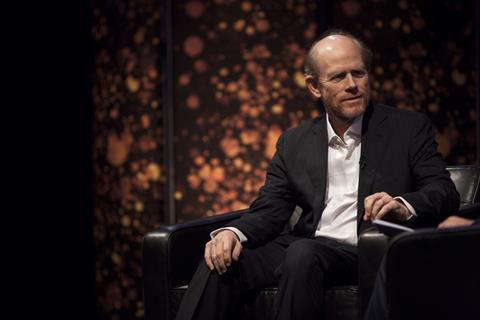 The director of Oscar-winners Apollo 13 and A Beautiful Mind was in London last night, interviewed on stage for BAFTA event A Life in Pictures: Ron Howard.
When asked about his inspirations as a film-maker, Howard said: "I continue to be influenced and inspired all the time. As difficult as it is to get movies made, as easy as it is for studios to want to go for template, manufactured product, movies that they can feel some confidence will work, sequels and so forth, really great things are still happening."
Howard's next movie is Formula 1 motor racing drama Rush, which marks Howard's first independent foray in more than 25 years – a major coup for the sector. Exclusive Media Group split financing duties with Cross Creek Pictures on the feature, which they produced alongside Imagine Entertainment, Working Title and Revolution Films.
Chris Hemsworth and Daniel Brühl star as James Hunt and Niki Lauda, the radically different personalities and motor racing titans whose fierce rivalry dominated the sport in the 1970s.
The screenplay was written by Peter Morgan, who also scripted Frost/Nixon.
When asked what drew him to the project, Howard said: "It was a combination of things. First, they were characters I was fascinated by.
"I had done Cinderella Man, a sports story, and enjoyed it. I love sports. I didn't know about F1 particularly, but I didn't know about boxing either and I couldn't begin to tell you how to go to the Moon. But there's something about going in there and discovering.
"I enjoy allowing my curiosity to lead me and F1 is a pretty fascinating, dense, rich world.
"It was also a chance to cinematically – in those races – carry over the psychological baggage, the emotional factors from their lives and let that inform the racing. Each race will reflect character in some way as well as narrative."
Working with Anthony Dod Mantle
Rush also marks the first time Howard has worked with cinematographer Anthony Dod Mantle, who won an Oscar for his work on Slumdog Millionaire.
Howard said: "Anthony gave us some really original, very impressionistic images to work with that – when carefully placed – take on a psychological significance or emotional significance, which was always his hope.
"But it wasn't wired into the story. You had to find places for those shots to live and find the rhythm of so many races."
It was Howard's first foray into shooting on digital. "There was more footage than ever to navigate," he recalled.
"There were little found bits that provided just what we needed. Given the style of movie and approach I wanted to take, an accidental pan-off or rack focus what just the thing.
"There was what was planned, what obviously belonged and this extra, important connective tissue that made it work."
Senna inspiration
The feature follows the success of Senna, Asif Kapadia's BAFTA Award-winning documentary that centred on late Brazilian F1 driver Ayrton Senna and his French rival, Alain Prost.
Howard explained the differences with his new movie but acknowledged its inspiration.
"Senna worked well as a documentary but it's a very different thing. [Rush] is a movie that has to reach further," he said.
"There was a great Apollo 13 documentary, but I couldn't borrow from it. However, there is always something interesting that a documentarian has to do with sound, music, editorial choices that can be very informative and inspiring.
"That Apollo documentary told me how riveting the story can be. Senna provided the same thing, as well as the TT documentary [TT3D: Closer to the Edge]."
Rock'n'roll approach
Howard added that another documentary that influenced both Frost/Nixon and Rush was the 1970 Rolling Stones film Gimme Shelter.
"It's so keenly observed and captured but had an off-the-cuff sense of the world in its look," he said.
"It informed Rush because I thought if we had a more rock'n'roll approach to this, it'll pull our attention to other facets of Formula 1 that are interesting: the glamour, the environment, the media pressure. It'll demand another level of detail and awareness.
"It's a style that makes it feel less like it was produced, staged and directed – and more like Senna, like you're discovering something."
Rush will be released in September.