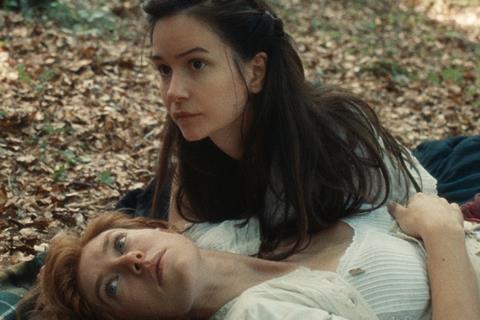 The International Film Festival Rotterdam has unveiled the line-up for its special one-off summer event that is due to take place from June 2-6 as part of the festival's 50th edition celebrations.
The five-day programme follows the first part in early February which took place online after a physical edition was ruled out due to the Covid-19 pandemic. It presented 60 films across IFFR's Tiger Competition, Big Screen Competition, Ammodo Tiger Shorts and Limelight sections.
This second part will showcase 139 feature, mid-length and short films in the new Harbour strand as well as Bright Future, Cinema Regained and the short and mid-length film sidebars.
The original plan was for the June event to take place physically but IFFR director Vanja Kaludjercic said in an online news conference on Tuesday that this plan was now in question due to the ongoing Covid-19 situation in the Netherlands.
"We are liaising directly with the authorities to understand what exactly will be allowed by the time the festival comes around. With the circumstances changing day by day, it's difficult to predict. The chances that cinemas will be open are really, really slim at the moment," she said.
As a result, part two will now run as a hybrid event with an on-demand component running June 2-9, hopefully alongside physical screenings if cinemas are open, she said.
First edition of the new Harbour strand
A total of 26 titles are due to play in the new Harbour strand, which aims to showcase titles that break free from preconceived ideas of what cinema should be. The bulk of the Harbour selection was first unveiled in April but a new title has since been added: French sci-fi drama Au Jour D'Aujourd'hui by Maxence Stamatiadis.
The additions are among five world premieres in the selection alongside Capitu And The Chapter by Brazilian avant-garde filmmaker Julio Bressane; kaleidoscopic essay film Decameron, capturing the current reality of Hong Kong by Rita Hui Nga Stu and Hotele Lerallaneng by South African filmmaker Charlie Vundla.
"The port is the backbone of the city of Rotterdam, and in the same way, Harbour is the backbone of the festival itself. You can look at this as the main programme. It offers a home to contemporary cinema in all its diversity," said Kaludjercic. "The aim is to find surprises and make discoveries."
There were also two new additions to the Bright Future line-up, Chinese director Qi Rui's warmly received childhood tale The Day Is Over and Malaysian filmmaker Chong Keat Aun's A Story Of Southern Islet for which he won best new director in Taiwan's Golden Horse Awards in 2020.
Opening and closing films
Norwegian actress-writer-director Mona Fastvold's drama The World To Come will open the second part on June 2 and Japanese director Hirota Yusuke's feature animation Poupelle Of Chimney Town will be the closing film on June 6
Starring Katherine and Vanessa Kirby as two women who develop a forbidden bond in an isolated frontier settlement in 1850s America, The World To Come premiered in Competition at Venice last year and also played at San Sebastian and Sundance.
Poupelle Of Chimney Town is adapted from a children's book by Japanese comedian and illustrator Hirota Yusuke's in which the young hero attempts to clean up his polluted city.
Big Screen Talks
Fastvold will also participate in an in-conversation event as part of the festival's Big Talks programme.
The other Big Talk guests comprise German director Dominik Graf and Bosnian director Jasmila Žbanić's, whose Quo Vadis, Aida? about the events surrounding the Srebrenica massacre won the audience award after playing in part one of the festival in February. Žbanić will participate in a panel discussion on what role art can play in recovering from past injustices.
Indian filmmaker Pallavi Paul also presents the Freedom Lecture, IFFR's annual talk organised by political and cultural centre De Balie. Her recent film on police violence in Delhi The Blind Rabbit will play in the short and mid-length section. She will take her own life story and work as the starting point for a reflection on freedom and resistance.
Classic films
In other highlights, the event will screen four features that played in previous editions of the festival: New Zealand director Jane Campion's debut Sweetie which screened at IFFR 1990, US filmmaker Jim Jarmusch's Night on Earth from IFFR 1992, Caro Diario by Italian director Nanni Moretti from IFFR 1995 and Japanese director Fukasaku Kinji's Battle Royale from IFFR 2001.
The feature film line-up is below.
Harbour
Accidental Luxuriance Of The Translucent WateryRebus (Cro)
Dir. Dalibor Barić
Amor fati (Port,Switz,Fr)
Dir. Cláudia Varejão
Au jour d'aujourd'hui (Fr) world premiere
Dir. Maxence Stamatiadis
Birds of America (Fr)
Dir. Jacques Lœuille
The Blue Danube (Jp) international premiere
Dir. Ikeda Akira
Bottled Songs 1-4 (Ger,Fr,US)
Dir. Chloé Gailbert-Laîné, Kevin B. (Ger,Fr,US)
Capitu and the Chapter (Br) world premiere
Dir. Júlio Bressane
Davos (Austria)
Dir. Daniel Hoesl
Death On The Streets (Ger,Den,Gr)
Dir. Johan Carlsen
Decameron (HK) world premiere
Dir. Rita Hui Nga Shu
Fan Girl (Phil)
Dir. Antoinette Jadaone
Homeless (S Kor) international premiere
Dir. Lim Seung-hyeun
Hotele Lerallaneng (S Afr) world premiere
Dir. Charlie Vundla
Lutar, Lutar, Lutar (Br)
Dir, Sérgio Borges,Helvécio Marins Jr.
A Man And A Camera (Neth)
Dir. Guido Hendrikx
MINAMATA Mandala (Jp) European premiere
Dir. Hara Kazuo (Jp)
Nudo Mixteco (Mex)
Dir. Ángeles Cruz
Only The Winds (Leb,US)
Dir. Karim Kassem
Persona Non Grata (Den)
Dir. Lisa Jespersen
The Rain Falls Where It Will (Iran, Can)
Dir. Majid Barzegar
Self-portrait 2020 (S Kor) European premiere
Dir. Lee Dongwoo
Scarecrow (Ru) international premiere
Dir. Dmitry Davydov
A Song For You (China) European premiere
Dir. Dukar Tserang
Time (HK)
Dir. Ricky Ko
An Unusual Summer (Pal)
Dir. Kamal Aljafari
El ventre del mar (Sp)
Dir. Agustí Villar
Bright Future selection
All About My Sisters (US) world premiere
Dir. Wang Qiong
BERG (Neth) world premiere
Dir. Joke Olthaar
Damascus Dreams (Can) world premiere
Dir. Émilie Serri
The Day Is Over (China) European premiere
Dir. Qi Rui
Faya Dayi (Ethiopia/USA/Qatar)
Dir. Jessica Beshir
A felicidade das coisas (Br) world premiere
Dir. Thais Fujinaga
Lumina, (It) world premiere
Dir. Samuele Sestieri
OK Computer (India)
Dir. Pooja Shetty, Neil Pagedar
Phoenix (Bel) world premiere
Dir. Bram Droulers
Rock Bottom Riser (US)
Dir. Fern Silva
The Son (Iran)
Dir. Noushin Meraji
A Story of Southern Islet (Malay) European premiere
Dir. Chong Keat Aun
Thomas der Hochspringer (Ger) international premiere
Dir. Leri Matehha
Woodlands Dark And Days Bewitched: A History of Folk Horror (US)
Dir. Kier-La Janisse