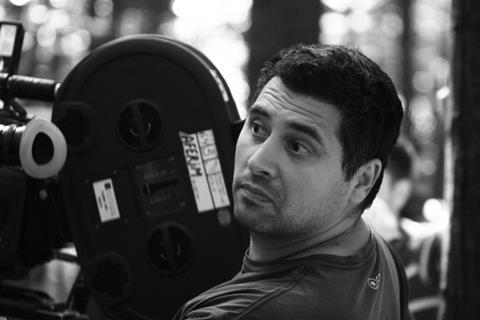 CineMart, the co-production market of the International Film Festival Rotterdam (IFFR), has revealed the 17 feature projects to be showcased at next year's edition.
Scroll down for full list
Held January 26-29 during the festival (which runs January 22 – February 2), CineMart invites filmmakers to pitch their projects to a host of international film professionals in tailored one-to-one meetings, as well as presentations that are open to all CineMart guests.
Notable directors in the selection include Romania's Radu Jude, who won a Berlinale Silver Bear in 2015 with Aferim! and picked up the NHK award at Sundance 2008 with The Happiest Girl In The World. His new drama, Sleepwalkers, will be produced by Bucharest-based Micro Film.
Others filmmakers of note include Bulgaria's Mina Mileva and Vesela Kazakova, whose Cat In The Wall played in competition at this year's Locarno; Canadian-Italian trans femme filmmaker Luis De Filippis, who won the short film award at Sundance 2018 with For Nonna Anna; and Dutch filmmaker Morgan Knibbe, who won the Netherlands Film Festival Golden Calf for his documentary Those Who Feel the Fire Burning in 2015.
Ireland's Mark Noonan returns with his first narrative feature since You're Ugly Too, which debuted at Berlin 2015. This Is The Country will be produced by Ireland's Feline Films and is an exploration of Ireland through the prism of a passionate love story.
A new feature from Dutch director David Verbeek has also been selected. The Wolf, The Fox & The Leopard is a dystopian drama set to be produced by Lemming Film, the Dutch outfit that co-produced Alejandro Landes' Monos and Yorgos Lanthimos' The Lobster. Verbeek's R U There played in Un Certain Regard at Cannes 2010 while features How To Describe A Cloud and Full Contact screened at IFFR in 2013 and 2015 respectively.
The 37th edition of CineMart will take place during the IFFR Pro Days, which runs January 25-29. IFFR Pro has also selected four VR projects for inclusion in this year's CineMart.
An additional nine projects will be presented as part of BoostNL, a collaboration between CineMart and Holland Film Meeting that aims to strengthen the market potential for Dutch films in development and international projects that have previously received support from the Hubert Bals Fund.
CineMart 2020 selection
All We Imagine as Light, Payal Kapadia, Petit Chaos/Chalk and Cheese (Fr-Ind)
Celosos hombres blancos, Iván Granovsky, Frutacine/O som e a fúria (Arg-Por)
Electric Sleep, Zeynep Dadak, Fenafilm/unafilm (Tur-Ger)
Followers, Dornaz Hajiha, Chinese Shadows/KinoKabul (Ira-Afg-HK)
The Garden Of Earthly Delights, Morgan Knibbe, BALDR Film/Cinematografica (Neth-Phil)
Infanta, Natalia Garagiola, Rei Cine (Arg)
Jilah and the Man with Two Names, Yosep Anggi Noen, KawanKawan Media (Indo)
The Patron, Julia Thelin, Grand Slam Film (Swe)
Princess, Karine Teles, Bubbles Project/Filmes de Plástico (Bra)
A Shadow Creeps In Silver Trees, John Trengove, Urucu Media (S Afr)
Sleepwalkers, Radu Jude, microFILM (Rom)
Something You Said Last Night, Luis De Filippis, JA Productions (Can)
This Is The Country, Mark Noonan, Feline Films (Ire)
Who Is Sleeping on My Pillow, Zhu Xin, Midnight Blur Films (Chi)
The Wolf, The Fox & The Leopard, David Verbeek, Lemming Film (Neth)
Women Do Cry, Mina Mileva/Vesela Kazakova, Activist38 (Bul)
The Young Arsonists, Sheila Pye, Borrowed Light Films (Can)
IFFR Pro x VR Days 2020 selection
Doubt, Matteo Lonardi, ReframeVR (Ita)
Floating With Spirits, Juanita Onzaga, Cassette for timescapes (Bel-Col-Mex)
Odd & Ity, Ricardo Laganaro, ARVORE Immersive Experiences (Bra)
Shock the Monkey, Blies Brothers, a_BAHN (Lux-Fra)
BoostNL 2019/2020 selection
The Dumped, Malu Janssen, IJswater Films (Neth)
Figures in the Urban Landscape, Ekaterina Selenkina (Rus)
From Guiné, Caroline Leone, Vulcana Cinema (Bra)
The Great Orator, Daniël Ernst, Submarine Channel (Neth)
Groundswell, Daniel Bruce, New Amsterdam Film Company (Neth-S Afr)
The Idyll and Other Exotics, Aaron Rookus, Studio Ruba (Neth)
Rapture, Dominic Sangma, Anna Films (Ind-Chi)
The Station, Sara Ishaq, Screen Project (Yem-Jor)
Wild Gleaming Space, Mauro Colombo, Apertura Films (Pan)