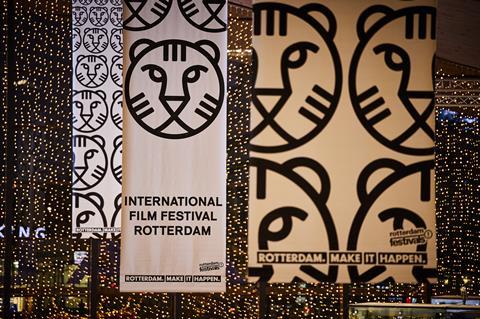 International Film Festival Rotterdam (IFFR)'s annual Reality Check symposium has called for a permanent coalition spearheaded by film festival and industry professionals to bolster the future of film festivals.
The symposium was held at the festival on January 29 to discuss how festivals can organise themselves and collaborate with one another in an ever-evolving industry landscape.
A group of 65 festival and industry professionals took part, with the event organised by a steering committee consisting of international producer and sales agent Rosa Bosch; senior programmer at Toronto and Rome, Giovanna Fulvi; London-based Good Chaos producer Mike Goodridge; seasoned festival director Carl Spence; and industry consultant Esther Bannenberg.
The idea for the symposium topic originated during the pandemic, during which members of the steering committee sent a questionnaire to festival directors around the world, asking for their views on the future of festivals, at a time in which the entire model had been shaken.
Further results are to be released in due course, but environmental impact and sustainability and the need for the evolution of festivals were the key topics of discussion at the event.
"We are all enjoying being in the same room watching all the wonderful films that Rotterdam has programmed, but online is here to stay. We have to deal with online," said Bosch. "Will festivals have a role not only in production and financing? How as festivals do we make some of those revenues go to the filmmakers?
"There was a unanimous conclusion," she continued, "of what would it mean, how it could take shape, how it would work, if a coalition of film festival professionals and industry were to lead the way as a film festival professional organisation, hearing what filmmakers want to say, what sales agents want to say. But also, be a bit of a spokes-coalition and lobby and have a say on how this wonderful and sometimes difficult and complicated filmmaking world goes forward."
"The festival industry as we know has come to be defined by a spirit of competition rather than collaboration – competition for premieres, for talent, for new innovations," added IFFR festival director Vanja Kaludjercic. "Our experience in Rotterdam over the last three years with all the challenges it has posed proves that this approach can't be sustained.
"Instead, it felt vitally important to gather some of the most experienced and knowledgeable players in the sector for Reality Check and to initiate the collaboration and cooperation that festivals need if they are to continue to grow, evolve and ensure their relevance for years to come."
The results of the Reality Check symposium formed part of the industry programme's headline discussion on January 31. Reality Check was launched at IFFR 2018 as the festival's platform to reflect on and discuss current issues in the film industry, as well as to work efficiently towards practical solutions.