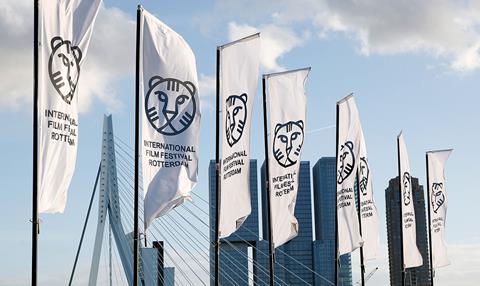 A debate has broken out in the Dutch press and the European industry over the dramatic restructuring of International Film Festival Rotterdam (IFFR) announced last month.
It has now emerged the festival is dispensing with almost its entire team of senior programmers whose positions are being made redundant. Some of these programmers, talking to Screen on the condition of anonymity, are accusing the festival management, led by managing director Marjan van der Haar and festival director Vanja Kaludjercic, of treating them unfairly and delivering the news out of the blue.
Others are arguing the festival needs to be "reinvented".
IFFR is yet to confirm the names of the full-time and part-time programmers affected. "Under Dutch law it's not possible for the organisation to disclose the specifics of individuals," a spokesperson commented.
However, the redundancy list is understood to include experienced and widely respected figures, all permanent staff members, including Bianca Taal, Gerwin Tamsma, Edwin Carels and Peter van Hoof. A host of other programmers on freelance contracts have also been let go.
Regular IFFR attendees with whom Screen has spoken regard these programmers as the "life-blood" and "DNA" of the festival. They have expressed dismay at their sudden departures and are threatening to stay away from next year's edition in protest. They see the actions as being against the collegiate spirit in which the festival has always been run since being set up by Hubert Bals in 1972.
Speaking to Screen, veteran producer Ilse Hughan of Amsterdam-based Fortuna Filmproductions, whose latest feature Fabian Hernández's A Male is screening in Directors' Fortnight later this month, was withering about the changes at IFFR.
"For me this feels like a coup d'état," said Hughan. "I am shocked. I really don't understand what is going on, why the artistic director and managing director took this decision. [The press release announcing the restructure] is all corporate nonsense, very clichéd. I don't see a vision."
Hughan has connections with IFFR stretching back many years, primarily as part of the selection committee of the festival's Hubert Bals Fund. She now says she will give up the role: "No Rotterdam for me anymore."
Her remarks were echoed by Christian De Schutter, manager of Flanders Image, who has worked for the festival under previous directors Emile Fallaux, Simon Field and Sandra den Hamer.
"I am very concerned because it goes against the true spirit of Rotterdam; it's totally against the festival's DNA," he told Screen. "To me it feels like Rotterdam is losing much of the human warmth which it was known and praised for in the industry. And on top of losing its warmth, it also dumps the expert knowledge [of the programmers] about films and filmmakers, as well as the expertise slowly built up over decades."
A festival spokesperson underlined the decisions had not been made easily. "There has been a huge amount of thought and collaborative consultation behind the overall restructure and the team has a strong vision for honouring the roots of the festival in future editions," they said.
New way of working
Kaludjercic's predecessor as festival director, Bero Beyer, now CEO of the Netherlands Film Fund, has given his qualified support to IFFR's actions.
"Sundance revamped, Toronto revamped, Sheffield [Doc Fest] obviously did a harsh revamp. Everybody is trying to figure out a new way which is borne out of the necessity to keep changing," Beyer told Screen. "I do think it is a good thing [Vanja] has the courage to make changes because she will get a lot of flak. But she has to do something and, for the sake of this great festival, I hope she succeeds."
Beyer also acknowledged the considerable debt the festival owes to its programmers. "Since we all, including funds, press and audience, rely greatly on the curation of programmers at festivals, I do think it is crucial they are treated and compensated accordingly."
As announced on April 14, IFFR will be reducing its core team by 15% and realigning the remaining staff members under five divisions: content, communication and audience reach, funding and business growth, business affairs, and operations. This is due to a €2m decrease in its annual budget from €9.8m in 2020, the last year the festival ran as a physical event, to €6.7m in 2021. The festival said it did not have a confirmed figure for 2022 but the projected budget for 2023 is €7.8m.
IFFR has been feeling the financial squeeze in large part because of the pandemic which saw two editions in 2021 and 2022 move online. Lost ticket sales during the pandemic are said to have put a big hole in the festival's finances. In audience terms, IFFR remains one of the biggest public festivals in the world. Its 2020 edition, the most recent full physical edition before the pandemic hit, posted 340,000 visits.
But sources suggest many of the staff would have been willing to accept a 15% salary cut rather than see their jobs eliminated.
Public debate
IFFR is a beloved and popular cultural event in the Netherlands and various Dutch newspapers have commented, taking the debate public.
Under the headline 'Kiss of Death', film magazine Filmkrant last week described the new moves at the festival as "a bad development".
"That message hit like a bomb," said cultural press agency Cultuurpress. "What is going on in Rotterdam? Will the IFFR still be that ground-breaking festival where the distance between audience and maker is so small? The festival where you can see small, fragile films, discover new directors, and see things that you don't understand but that do fascinate you?"
Meanwhile, daily newspaper NRC spoke of "unrest" at the festival due to cutbacks and the departure of staff, noting that in the past two years, "at least 40 people have left the organisation of the International Film Festival Rotterdam."
One worry cited by observers is that IFFR risks losing its traditionally strong connection with local audiences. The long-term programmers and executives who are leaving the organisation are predominantly Dutch.
It is now envisaged that IFFR will rely on freelance programmers, many from abroad.
The festival is continuing negotiations for new team roles, actively recruiting and finalising offers and new hires, with the new team set to be announced in Cannes on May 19.
"I understand the logic to use a freelance pool of programmers rather than long-term programmers. But it will be interesting to see how IFFR retains both the local Dutch flavour and the long-term network," said Beyer.
"It's difficult to change a programming set-up at a big festival without making drastic choices. It is not an easy ship to steer," added Beyer. "It may come at a cost but you need to constantly reinvent yourself, as well as finding a balance between keeping the festival DNA intact and breaking new ground."