EXCLUSIVE: The Manchester-based horror festival has revealed its 2015 programme.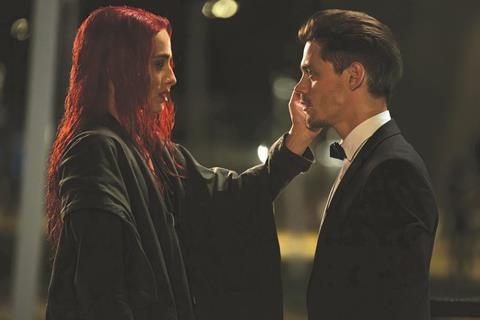 Grimmfest (Oct 1-4), Manchester's horror and cult film festival, has revealed its line-up for 2015.
The festival will feature the world premiere of DxM, which stars Sam Neill alongside two former Screen Stars of Tomorrow, Tom Payne and Antonia Campbell-Hughes.
Andrew Goth (Gallowwalkers) directed the film, which had a market screening at Cannes this year.
This year's opening night gala will be The Hallow, with director Corin Hardy and star Joseph Mawle in attendance. Playing on the same evening will be The Box, the directorial debut of Shaune Harrison (SFX on World War Z and Avengers: Age Of Ultron) and Bloodsucking Bastards, which stars Fran Kranz (Cabin In The Woods) and Pedro Pascal (The Adjustment Bureau).
The festival will also host the European premiere of Antisocial 2, Cody Calahan's sequel to his 2013 debut, which was a hit at Grimmfest that year.
There will also be five UK premieres taking place: Jason Krawczyk's He Never Died; Jacob Gentry's Synchronicity; Patrick Kennelly's Excess Flesh; David Yarovesky's The Hive and anthology film German Angst, from directors Jörg Buttgereit, Michal Kosakowski and Andreas Marschall.
Further screenings include Paul Hyett's Howl, David Keating's Cherry Tree, and The Nightmare, Rodney Ascher's follow-up documentary to Room 237, which deals with sleep paralysis.
As part of the 'festival hit' programme, which highlights the best genre films from the festival circuit, Grimmfest will show Turbo Kid, which won audience awards at Fantasia and SXSW, Ted Geoghegan's We Are Still Here and Jason Lei Howden's Deathgasm.
The festival will also screen two films in its 'Halloween horror' section, which celebrates the spookiest of seasons: Bruce McDonald's hallucinogenic Hellions and anthology film Tales Of Halloween.
Grimmfest will also show horror classics Clive Barker's Hellraiser, ahead of its remastered rerelease, and Wes Craven's Scream, a tribute to the late director with proceeds going to charity.