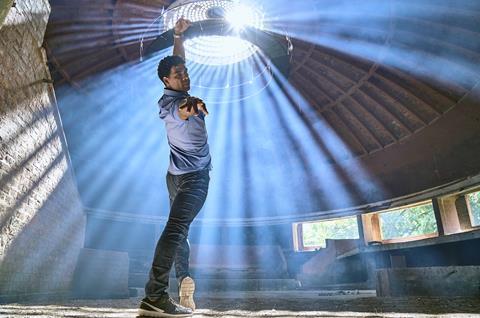 The Spanish films that will be showcased at the 2018 San Sebastian Festival (21-29 September) have been revealed.
The competition titles includeYuli, directed by Icíar Bollaín, who has twice previously competed for the Golden Shellwith Take My Eyes (2003) and Mataharis (2007).
Isaki Lacuesta is also in competition with Between Two Waters. Lacuester's The Double Steps won the Golden Shell in 2011. The new film stars the two Roma brothers who appeared as teenages in one of the his first films, La Leyenda Del Tiempo.
A further Golden Shell winner (for Magical Girl in 2014), Carlos Vermut returns with In Quien Te Cantará, starring Najwa Nimri and Eva Llorach.
The complete series of crime drama Gigantes, directed by Enrique Urbizu and Jorge Dorado, will screen out of competition. It is the second year a television series has been selected for the official selection.
The first wave of competition titles, including Claire Denis' English-language sci-fi title High Life and Naomi Kawase's Vision were announced earlier this month, as were the first 13 films in the new directors section.
The full list of newly announced Spanish-produced titles in the competition, special screenings, new directors, Zabaltegi-Tabakalera and Perlak strands is below.
Official Selection - In Competition
El Reino (The Realm) Dir: Rodrigo Sorogoyen (Spain – France)
Entre Dos Aguas (Between Two Waters) Dir: Isaki Lacuesta (Spain)
Quién Te Cantará Dir: Carlos Vermut (Spain - France)
Yuli - Icíar Bollaín Dir: (Spain - Cuba - Uk - Germany)
Official Selection - Not In Competition
Gigantes Dirs: Enrique Urbizu, Jorge Dorado (Spain)
Official Selection - Special Screenings
Dantza Dir: Telmo Esnal (Spain)
Tiempo Después Dir: José Luis Cuerda (Spain - Portugal)
New Directors
Apuntes Para Una Película De Atracos (Notes For A Heist Film) Dir: León Siminiani (Spain)
Oreina (The Deer) Dir: Koldo Almandoz (Spain)
Para La Guerra (To War) Dir: Francisco Marise (Cuba - Argentina - Spain)
Viaje Al Cuarto De Una Madre (Journey To A Mother's Room) Dir: Celia Rico Clavellino (Spain- France)
Zabaltegi-Tabakalera
592 Metroz Goiti (Above 592 Metres) - Short Film, Maddi Barber (Spain)
Belmonte - Federico Veiroj (Uruguay - Mexico - Spain)
Los Que Desean (Those Who Desire) - Short Film, Elena López Riera (Switzerland - Spain)
Teatro De Guerra (Theatre Of War) - Lola Arias (Argentina - Spain - Germany)
Trote (Trot) - Xacio Baño (Spain - Lithuania)
Perlak
El Ángel - Luis Ortega (Argentina - Spain)
Un Día Más Con Vida / Another Day Of Life - Raúl De La Fuente, Damian Nenow (Spain - Poland)
Petra - Jaime Rosales (Spain - France - Denmark)